15 Easy WordPress SEO Tips to Boost Your Website's Rankings
Nail Your WordPress SEO With Our List of Easy Tips
Your new WordPress site has a fancy custom theme, the first blog posts are ready, and it's time to hit publish.
But not so fast! Have you thought about search engine optimization (SEO), which could make your site more attractive to search engines such as Google? If not, read on, and we'll walk you through some basic tips to get you started.
SEO is a critical part of any website looking to grow its visitor numbers. When your SEO is on point, it makes it easier for search engines to read and understand what's on your site. This can then improve your site's ranking on search result pages. With solid SEO, you have a better chance of ending up on that all-important first page of Google results, where most people begin (and end) their web searches.
This process is half art, half science. There's no single magic formula to reach the very top of the search rankings, but there is a lot you can do to improve your chances of hitting Google's first page. Some SEO involves basic site maintenance, while other strategies require attention to every aspect of your site's pages, titles, and posts. It sounds complicated, but SEO for WordPress really isn't all that tough – as long as you're willing to put in a small amount of effort.
Good to know: We've put our tips in the order that we think is easiest for site owners to follow. The first items aren't necessarily the most important for SEO, but they are foundational. Once you get the foundation right, building on top of that is a lot easier. In this article, we'll assume you're using the latest stable version of WordPress, which at this writing was WordPress 5.2.2.
15 Simple WordPress SEO Tips
Choose A Fast Web Host
Check Your Site Performance
Secure Your Website With SSL
Secure Your Website Generally
Check Your Site Hierarchy
Check the General Settings
Optimize Page Title, Tagline, and Permalinks
Write a Solid Meta Description
Create an XML Sitemap
Posts Use Subheadings and Meta Descriptions
Optimize Posts for Keywords
Only One H1 Per Post
Avoid Duplicate Content
Understand Categories and Tags
Linking: Internal and External
1. Choose a Fast Web Host
Naturally, you want people to visit your site, have a good experience, and be able to easily access and share your content. So does Google. And it will reward websites that tick all of these boxes with higher rankings.
Your website's speed, or load time, is a crucial factor in ensuring you provide a great user experience, so it's essential you choose a hosting provider with high speeds. After all, internet users don't like even waiting just 400 milliseconds for a website to load.
What is Web Hosting?
Web hosting is a service that allows your website to be accessed on the internet. Without hosting, your WordPress website cannot go live on the Web. Websites are stored on computers known as servers, which are run by web hosting providers. When a person wants to view your website, your web hosting provider will connect your website to the user's computer via a server.
You'll also need a host with a near 100% uptime. Uptime is the amount of time a hosting provider remains up and running, and therefore, the amount of time your website remains up and running. If your site is down frequently and can't be accessed, Google will penalize it.
We recommend using a hosting provider such as HostGator or InMotion, as they offer a great combination of high speeds and near perfect uptimes. Bluehost is also a good option for WordPress. We've rated it as the #1 web host for WordPress websites, and it's even been recommended by WordPress itself.
More Information
To find out which web hosts we recommend for SEO and why, check out our rundown of the Best Hosting Providers for SEO.
For the lowdown on our top-rated hosting providers for WordPress websites, take a look at our guide on the Best WordPress Hosts.
Read our reviews of HostGator, InMotion and Bluehost for a detailed breakdown of each host.
2. Check Your Site Performance
A web host is only one part of a much larger puzzle for site performance. Your theme, use of plugins, and even image size can also impact it. One of the easiest ways to check your site performance is to open your WordPress console and go to Tools > Site Health.
This page scores your website's performance and security, and suggests improvements. In some cases, you may disagree with what this tool suggests, but only ignore them if you understand what the implications of each suggestion are.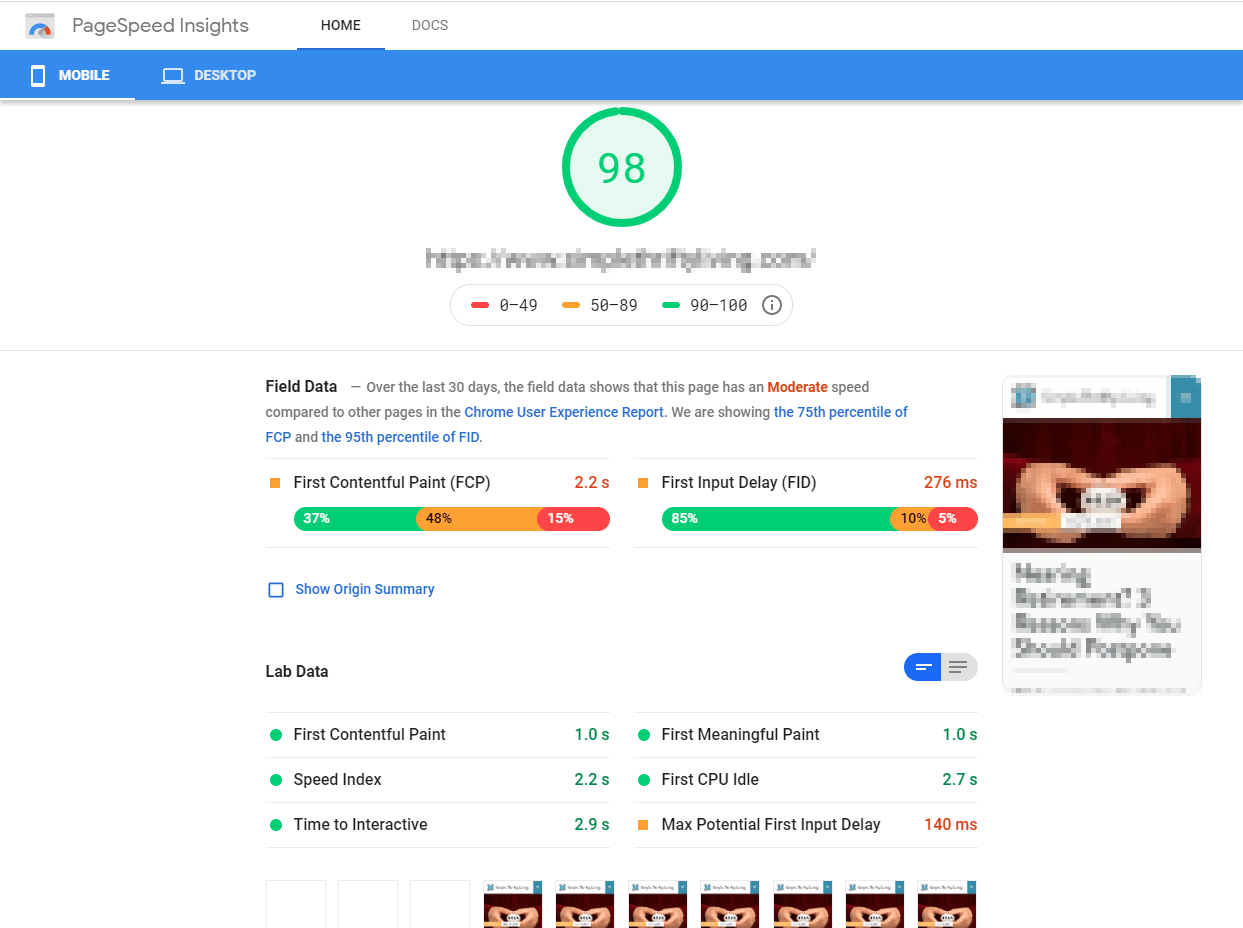 Next, use Google's Pagespeed Insights to test your site's various pages. Most pages should score about the same, if you're running a blog without any specialized code on specific pages. Once the analysis is complete, scroll down to the Opportunities section, and then see if there are any improvements you can make.
3. Secure Your Website With SSL
There was a time when you'd only see a little SSL lock icon in your browser when banking or shopping online. These days, however, most sites have SSL certificates. This is in part because of a greater awareness of online security, but it's also because of Google. The world's most popular search engine now ranks sites that use SSL encryption higher than non-SSL sites, and may even penalize sites that don't have it.
Using SSL may seem silly if your site publishes cake recipes or offers tips on car maintenance, but SSL makes everyone more secure. Besides, these days you don't even have to pay for SSL, since the Let's Encrypt authority gives certificates away for free. Most web hosts have automated tools to add SSL to your website, including free integration with Let's Encrypt.
4. Secure Your Website Generally
Adding SSL is only one part of a deeper focus on site security. If your site gets hacked, it could affect your search rankings. Site security includes basic things, such as using a strong password to login to WordPress. You should also activate the fail2ban plugin for WordPress, which usually comes with a fresh WordPress install. This plugin prevents brute force login attempts. Also activate Akismet, another default plugin that prevents comment spam, which can also negatively affect search rankings.
Beyond that, you should keep WordPress and your plugins up to date, delete WordPress themes you're not using, and regularly update PHP on your server. Some critical updates may be handled automatically by your web host, depending on your hosting plan. For more information on WordPress security, check out the tips on WordPress.org.
5. Check Your Site Hierarchy
How your site is organized can also make a big difference for SEO. In general, you want to have a homepage with a clearly organized menu, a set of categories (we'll get to that) for navigating the site by topic, and then your posts and static pages. This is the site structure that Yoast, a popular SEO plugin for WordPress, recommends.
6. Check the General Settings
There are a few basic WordPress settings that you need to have organized. Go to Settings > General and choose between using www or not, in two spots: WordPress Address and Site Address. This should already be taken care of, but you can change it here if you need to. The important thing is to choose one format and stick with it, as Google treats avocadotoast.com and www.avocadotoast.com as two different sites.
Next, go to Settings > Reading and make sure the box under "Search Engine Visibility" is not checked. This setting is for people who don't want search engines to index their sites, i.e. not you.
7. Optimize Page Title, Tagline & Permalinks
Go back to Settings > General. Here, make sure your site title is descriptive, making it clear what your site's focus is. You should also give your site a descriptive tagline with keywords that Google will recognize. Search engines will take your title and tagline into account when ranking, since they help describe what your site is about.
Next, go to Settings > Permalinks and select the Post name radio button. This creates URLs based on your blog post and page titles. By default, WordPress uses a numeric URL structure, which doesn't help SEO as much as descriptive URLs do.
8. Write a Solid Meta Description
Whenever search results come up for a website, you typically see a snippet of text under the site title. Google can create this snippet automatically, but it's better if you create your own. To manage this, it's best to install an SEO WordPress plugin. The two top choices right now are Yoast and All-in-One SEO Pack. Both are popular, and both have a free version. In this article, we're using Yoast for our examples.
Once you install the Yoast plugin (Plugins > Add New > Search for Yoast > Install), click on the new left-hand navigation option SEO > Search Appearance > Content Types. Scroll down a bit, and you'll see a box to insert a meta description. Make sure your meta description matches your website's focus, and that it's written in an active voice that encourages people to click on your link.
Here are a few good examples of meta descriptions pulled from Google:
Twitter
See what's happening in the world right now. Join Twitter today. Sign up Log In.
Watch Netflix movies & TV shows online or stream right to your smart TV, game console, PC, Mac, mobile, tablet and more.
KFC
Click here for the Finger Lickin' Good menu, find a restaurant or order for delivery near you. The chicken, the whole chicken and nothing but the chicken.
All of these meta descriptions state very clearly what the site is about.
9. Create an XML Sitemap
XML Sitemaps are maps for Google written in the eXtensible Markup Language (XML). These are text lists of all your website's pages, posts, tags, categories, and other information. The format makes it easy for Google to find all the important pages on your site.
If you've already installed Yoast, the XML Site Map should've been created automatically. You can check this by going to SEO > General and making sure the button for XML sitemaps is set to On.
If you don't want to use Yoast, then try the classic plugin Google XML Sitemaps.
10. Use Subheadings and Meta Descriptions in Posts
Now we've laid the SEO foundation for our site, it's time to think about our day-to-day work with posts. When you're organizing a post, you want to make sure you use subheadings such as H1, H2, H3, or H4. Using these provides better structure to your work for human readers, and makes the topic more understandable to search engines crawling your site.
In this very article, for example, we're using H2 as the heading size for each of our 15 tips, while the introduction at the top has an H1. All of these headings make it easier to navigate our work, and allow readers to jump to the sections they're most interested in. It also signals to Google what this work is about, and what kind of content it contains.
You'll also want an engaging title for each post that's related to the subject.
Finally, write a meta description for each post as well. To do this, click on the Yoast symbol in the post editing interface, and then in the right sidebar click Snippet preview. Then, fill out the box titled Meta description.
Helpful Advice
For more in-depth information about how to structure and write your website's content (including tips from real experts), check out our guide on Writing for the Web.
Keywords are the nuts and bolts of SEO. These are the words that relate directly to the content of your site, site page, or post. If you're writing about soccer, for example, then your keywords might be "soccer," "football," and "world cup." Keywords are used in the title of your blog posts and static pages, and typically show up in the body of your posts with regular frequency. It's also good practice to use keywords as the anchor text for links in your post.
Using keywords is definitely more of an art than a science, because it can easily be overdone. When it is, your page could get penalized for 'keyword stuffing', or just appear ridiculous. Don't forget – you want to optimize for Google, but ultimately you're writing for humans, not robots.
You should also stay in your lane. Don't go keyword hunting for terms that have no relationship to your site focus. If you're selling life insurance, for example, don't try to pick up on the popularity of search terms for Ariana Grande or Spider-Man unless it somehow makes sense to your site's goals and topics. That doesn't mean you can't get creative or go off on a tangent now and then, but try to stay on topic as much as you can.
12. Only Include One H1 Per Post
The post or page title is the only place that should have an H1 heading – the largest type of headline you can make. Everything after that should use H2, H3, and H4, as previously discussed. An H1 heading is a signal to Google about the focus of a given page or post.
WordPress makes this easy, since only the post title is set as an H1 by default. What's more, with the standard editing tools, you cannot create an H1 within the body of the post. You can, however, edit your posts as HTML, and start inserting tags all over the place. That is a bad idea. Don't do it.
13. Avoid Duplicate Content
Another big mark for confusion is if you cover the exact same issue, or keywords, on multiple posts or pages. There's a common misconception that targeting the same topic on multiple pages will improve your rankings in the search results for that topic. Well, it doesn't. In fact it has the opposite effect.
Known as keyword cannibalization, you're essentially competing with yourself on a given topic, and by doing so, are diminishing the quality and authority of your website. This often results in your site being pushed further down the rankings.
A better strategy is to choose a single post, and then update that post as required. For example, if you have a post called "The Best Cake Recipes Ever," treat that as an "evergreen" post – meaning the topic is never really out of date. Evergreen content can be updated and rewritten. This approach is much better than creating new posts that rehash the same topic.
WordPress supports categories and tags, which can also help Google parse and understand your content. Figuring out what the difference is can be a little confusing, though – basically, you want to use categories for your site's main topics, with tags used for more detail.
A blog reviewing books, for example, might use categories such as Sci-Fi, Literature, Translations, and Young Adult. The tags would then include the titles of books, names of authors, publishing houses, and other data specific to that post.
15. Add Links – Both Internal and External
There are two types of links on a website: external links that lead to other websites, and internal links that lead to content on your site. Both can be helpful for SEO. These days, SEO experts seem to prefer internal links, and suggest limiting the amount of external links by using nofollow tags. A nofollow tag tells Google not to count a particular link as a positive vote towards a third-party site's reputability.
Make sure to link to internal and external pages when it makes sense, and make sure the text you use for the links is somehow descriptive. Follow this basic advice, and you should be just fine.
16. WordPress SEO Tips: Summary
There we have it: 15 WordPress SEO tips to get Google to notice your website and (hopefully) rank it higher. With the proper use of keywords, linking, categories, tags, meta descriptions, plugins such as Yoast, and proper website maintenance, you should be on your way to a better ranking on Google and other search engines.
We've only scratched the surface of SEO with these basics. Over time, you can learn about more nuanced ways to improve SEO, as well as improve your ability to write effective meta descriptions, taglines, and titles.
To recap, our 15 WordPress SEO tips to get you started are:
Choose A Fast Web Host
Check Your Site Performance
Secure Your Website with SSL
Secure Your Website Generally
Check Your Site Hierarchy
Check the General Settings
Optimize Page Title, Tagline, and Permalinks
Write a Solid Meta Description
Create an XML Sitemap
Posts use Subheadings and Meta Descriptions
Optimize Posts for Keywords
Only One H1 Per Post
Avoid Duplicate Content
Understand Categories and Tags
Linking: Internal and External
Follow the tips above, and you'll be on your way to an effective SEO strategy in no time.
Hits: 0