28 Backpage Alternatives Websites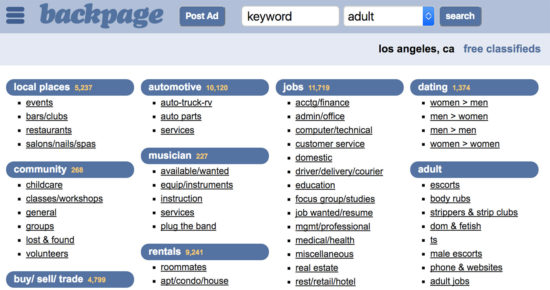 Backpage replacement
As one of the best site classified site, Backpage is closed. So, these days many people are looking for Backpage alternatives in 2020.
Backpage is a classified advertising means web communication website. Where people can promote their business offer like they used to post their ads on newspaper.  Backpage started back in 2004 offering a vast variety of jobs, services, automobile, buy/sell/trade and real estate. Backpage became the second largest classified advertising in 2011 listing various services on the Internet in the US.
Classified advertising is the method of marketing that is common in the newspaper, online services or any other periodicals that may be distributed or sold for free of charge. Although the classified ads are much cheaper than the display advertising, the display ads are more widespread than the classified ads.
Why you need replacement to Backpage?
Over the decade Backpage has grown to be popular but also have got many complaints on some of their sections which eventually lead to many legal charges against them. Hence, we have compiled the list of some of the best backpage alternative websites.
Best backpage alternatives 2020
1. Craigslist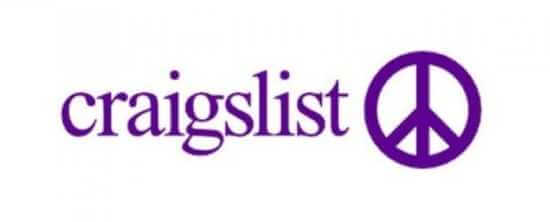 Craigslist is an American based Classified advertising website and Backpage alternative in which the content is dedicated to the sections like jobs, housing, buy/sell/trade, various services, community and discussion forums.
Craig Newmark, the founder of Craigslist Advertising, first started this in 1995 as an email distributed containing ads about the local events and soon he began to get many subscriptions, and in 1996 it became a website service and expanded its category to other classified section, now the website covers over 70 countries.
The site has more than 20 billion viewers every month, which has put the website on the 72n place in overall rating worldwide. With an 80 million new classified ads every month, among which 2 million new job ads are making it one of the top job posting boards around the world. This is why it is one of the best backpage alternative.
With Craigslist searching for jobs is very easy, no need of a middleman you can directly contact the company of interest without getting any other website ads on your way. The fee for posting jobs are minimal and the one searching for the jobs can search them for free.
And now you can also access these board at your fingertips with craigslist mobile app for IOS and Android.
2. OfferUp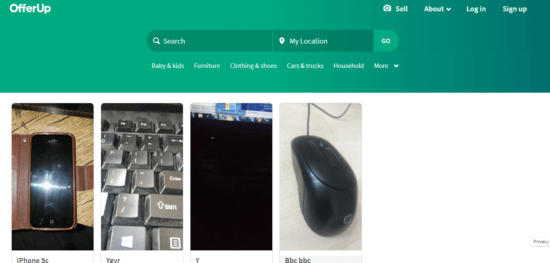 If you are finding a reliable site like backpage you can pick the OfferUp site. It is one of the best marketplaces to buy and sell items. This site connects you with genuine buyers and sellers. Apart from that, you can complete your transactions within only 30 seconds.
Further, this site offers you discounts on things such as electronics, baby products, furniture and so on. You can also build your profile page for easy dealing. Moreover, it is simple to browse and search the items by typing the name in the search bar. Furthermore, it is a safe platform for buying and selling.
Recommended: 10 Free Offerup Alternatives
3. Gumtree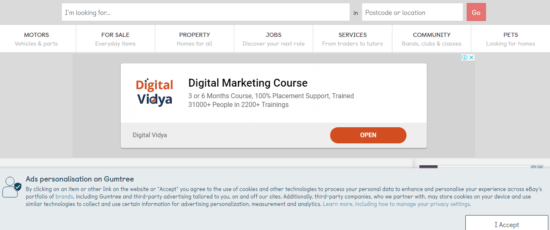 The next option on the list of sites like backpage is Gumtree. It is a good app to sell your assets like laptops, cell phones, and cars. This site is a nice place to buy good quality items. You can also find the rental apartments in your area with the help of Gumtree.
In addition to that, you can search for any item of your daily use on this app. You can also send private messages to the buyers or sellers to ask about the products. Moreover, this platform offers every item at an affordable rate and in good condition.
Recommended: 10 Best sites like Gumtree to try
4.  ClassifiedAds
This is a classified advertising website for cars, housing, real estate, jobs and every other service. Unlike many other classified sites searching and posting ads on ClassifiedAds is free of cost. This site is very popular in UK, USA, Canada and Australia.
The design of the website is very simple and easy to find the sections you are looking for. This Washington based company has over 3 million unique viewers. This company is among the new start-ups but is also among the major competitor in the field of classified online advertising.
Thousands of items and services are posted and sold. They also don't have a vast amount of staff member but are still they have risen to become the search space for most people.
With classified coming at your fingertips with its mobile application, they have made it, even more, easier for people to reach out to the items or services near them. Over the years this website has expanded to many other countries and is successful in helping people worldwide.
5. Kijiji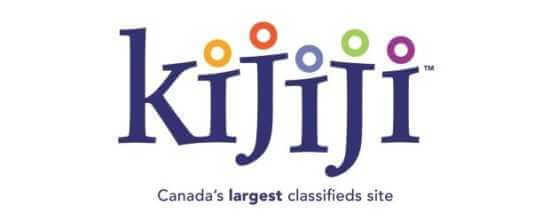 Kijiji is a popular online classified advertising website in Canada. Kijiji is a seen as a competitor to Backpage. Kijiji was a start-up started initially by entrepreneurial employees of eBay. It launched its services in the US in 2007 and was made available to a selected number of cities in the United States. But in 2010 Kijiji changed to eBay classified.
Soon after eBay started buying other classified websites in other countries and started it services worldwide. It re-branded many of its website all worldwide.
This website has been providing its services in a various section of automobiles, personal services, jobs, buy/sell/trade and many other parts. They have been competing against many other classified websites and had services no less than any. All eBay classified websites are designed are very simple and easy to interact with. They have simplified content and sections for various functions. You can post your ads for free and also search them for free with simple registration. We'd recommend you to have a look at this substitute to backpage.
6. Geebo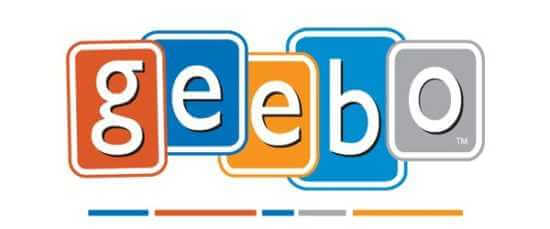 Geebo is a US-based online classified advertising website founded in 2000. Geebo is an independent website popular through its several partnerships with specific promotional sites. Users can post for or about the service that they want or want to promote for free.
As the internet services began and started to replace the printouts most of the companies in the newspaper industry began to neglect most of the facilities that they used to provide through printouts, but this website has evolved to become among the sites that have started to promote these services.
Geebo founder Greg Collier has been continually putting efforts into making a sage online marketing place. In the process of creating a safe online market, he altered the company model in 2010 to exclude all personal ads. The website reviews all the post for the sign of any fraud or trickery or any poor behavior before submitting the job on their boards.
The design of this website is simple you can find your interested section quickly without much of efforts. All the parts and contents are well categorized all over the site.
Geebo has continuously been improving its online services and making it safe for buyers and sellers.
In 2011 Geebo partnered with WeGoLook a start-up for an on-site inspection service for the customers that would-be.
7. 5miles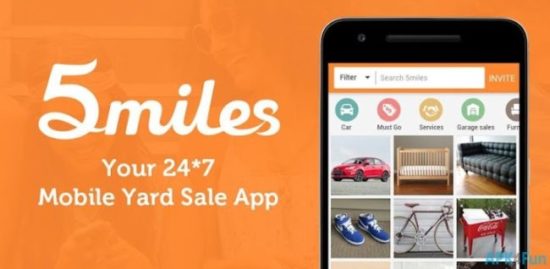 Whether it is a book or a game, you can buy and sell everything on 5miles app. It is an amazing classified site that you can use for buying or selling items. You can also negotiate while making any deal on this site. Apart from that, it gives you the information of genuine buyers and sellers.
Additionally, it is easy to search for any item in the search column by typing the name of the item. All you have to do is to join the platform by giving your personal details. Furthermore, it works in all the major cities of the globe.
8. FreeAdsTime.org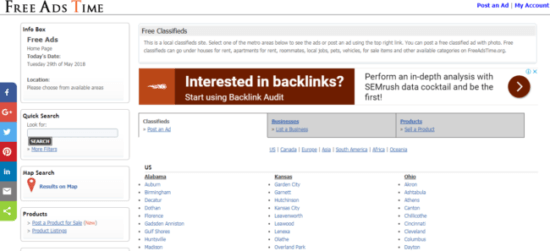 Do you find it difficult to sell your old bike or car? Now, you don't have to worry as FreeAdsTime will do it for you. This is the best backpage alternative for posting the ads to sell your cars, second-hand furniture, and so on. It gives you the details of trustworthy buyers and sellers.
Further, it is easy to filter your search by typing the name of the product. It contains different categories in which you can get all the products of daily use. Moreover, this platform runs successfully in every city in the world. Furthermore, it offers discounts on different items.
9. Peerhub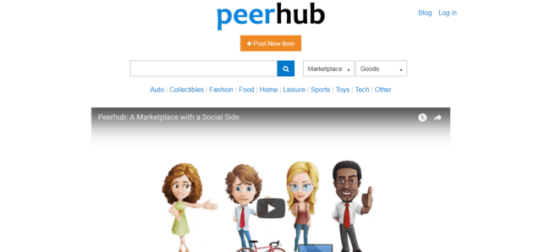 Peerhub is an online marketplace to buy and sell all the products. This site has some of the best features. You can find many categories of items on this platform. Apart from that, it has a search bar in which you can write the name of the product to get the options.
In addition to that, this site sells everything from cell phones to vehicles. You can also get fashionable apparels, laptops, headphones and so on. It also offers Bitcoins to customers. You can invite your buddies to join this platform for buying and selling items.
10. Bedpage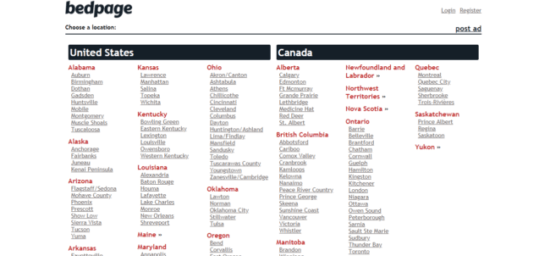 If your goal is to take your business to a large audience, then you can go for Bedpage. It is one of the sites for posting business ads. This is the free website wherein you have to create an account. Apart from that, this site also works with other tools such as Google Trends.
Further, you can post the ads of any business on Bedpage. It also helps you to get more traffic to your business and make profits.
11. OLX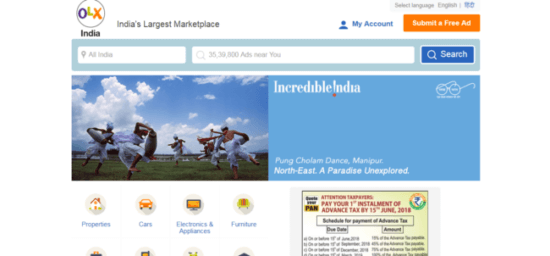 Whether it is your old sofa set or car, you can sell it on OLX. It is the famous site on which you can sell all your old stuff. Further, the site categorizes every item for simplification. You have to create an account and post your ad. Reliable buyers and sellers will then contact you.
OLX works in several languages. You can pick any language in which you want to complete the transaction.
12. WallClassifieds
WallClassifieds is one of the most popular classified site in UK, USA, Australia and Canada that you can choose for advertising. You can sell vehicles, electronics, and any other item on this platform. Apart from that, you can also buy or sell homes or offices on WallClassifieds.
Further, this platform promotes different services. You can also find jobs according to your degree and experience on this site. If you want to buy a small puppy or cat, you can contact the seller within your city.
13. LocalFind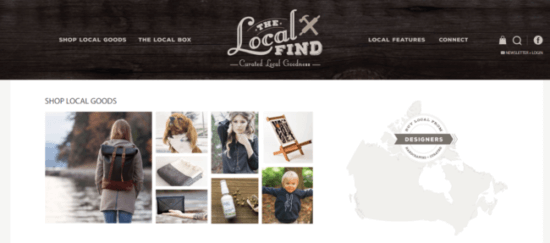 The next tool on the list is LocalFind. It is the latest site to buy and sell all your old items. Further, this site has the details of all genuine buyers and sellers. You can sell or buy everything from a sofa set to cars on this platform.
In addition to that, this app lists the things in different categories. You can find every item easily on the LocalFind site. Furthermore, it is one of the best Backpage alternatives to do regular trading.
14. Oodle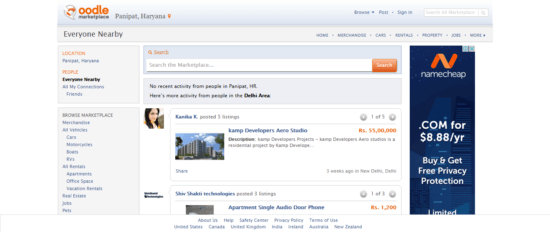 This is one of the classified aggregator present. Oodle aggregates ads from ForRent, eBay and more. This site coves many regions of United Kingdom, Canada, Ireland, India and more.
User can post Ad very easily, this is one of the major advantage of Oodle.
15. Locanto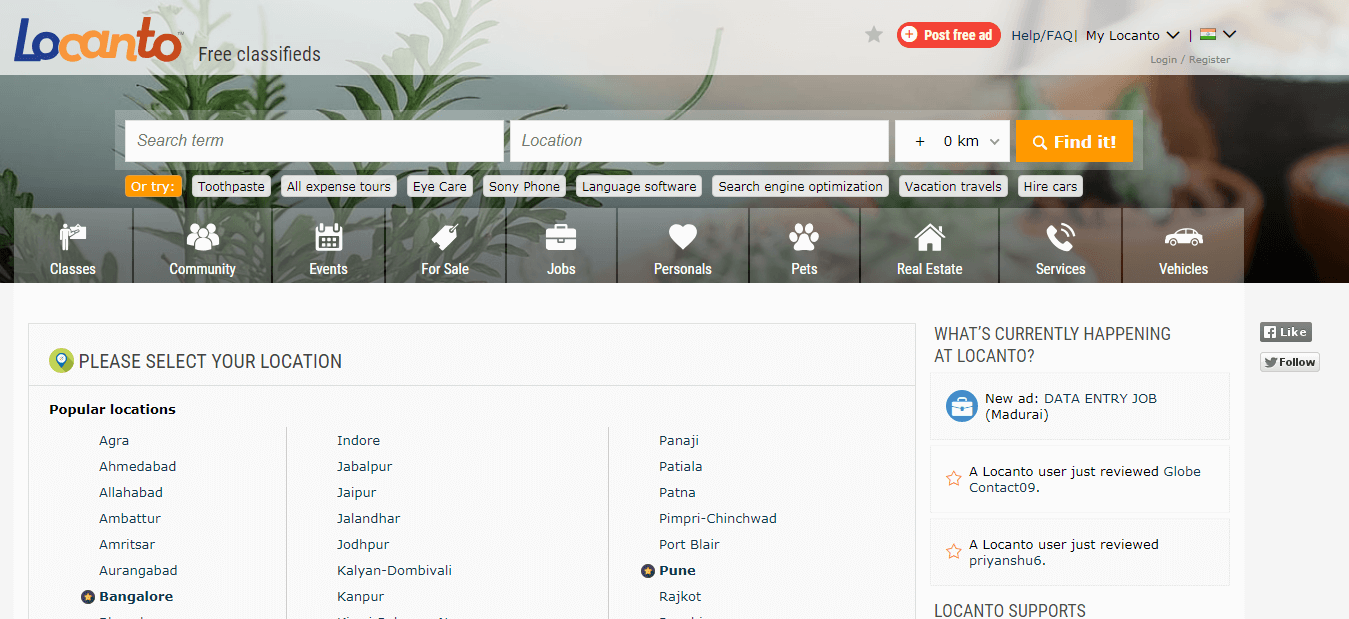 Locanto is around twelve year old classified listing site which provides free service worldwide. Through this site you can find jobs, personal ads, real estate deals and more.
As Backpage is closed, so according to us Locanto can be the best Backpage substitute.
16. Channels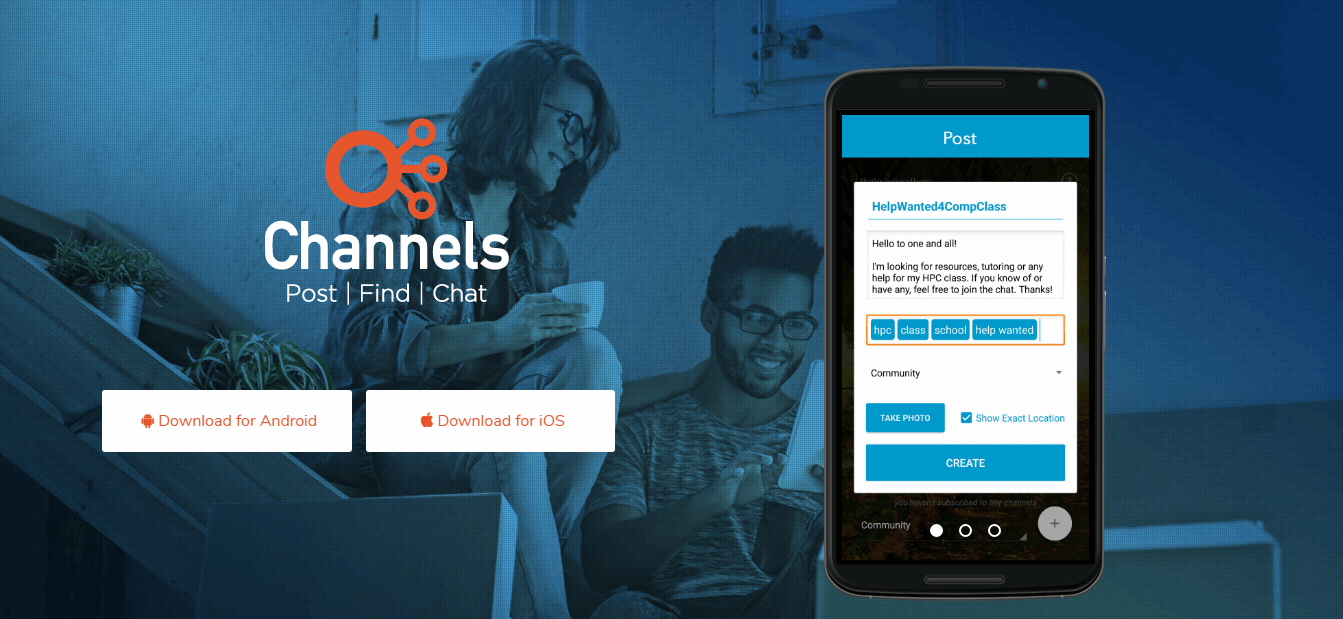 Channels is the website through which you can buy and sell anything of your choice. It is a great medium to connect buyers and sellers from different parts of the world. You can sell and buy various items on this app such as electronics, books, furniture, kitchenware, home décor items, and automobiles. Channels app give the reference of genuine buyers and sellers after checking all the details properly. It also eases the payment procedure between buyers and sellers.
17. Rezella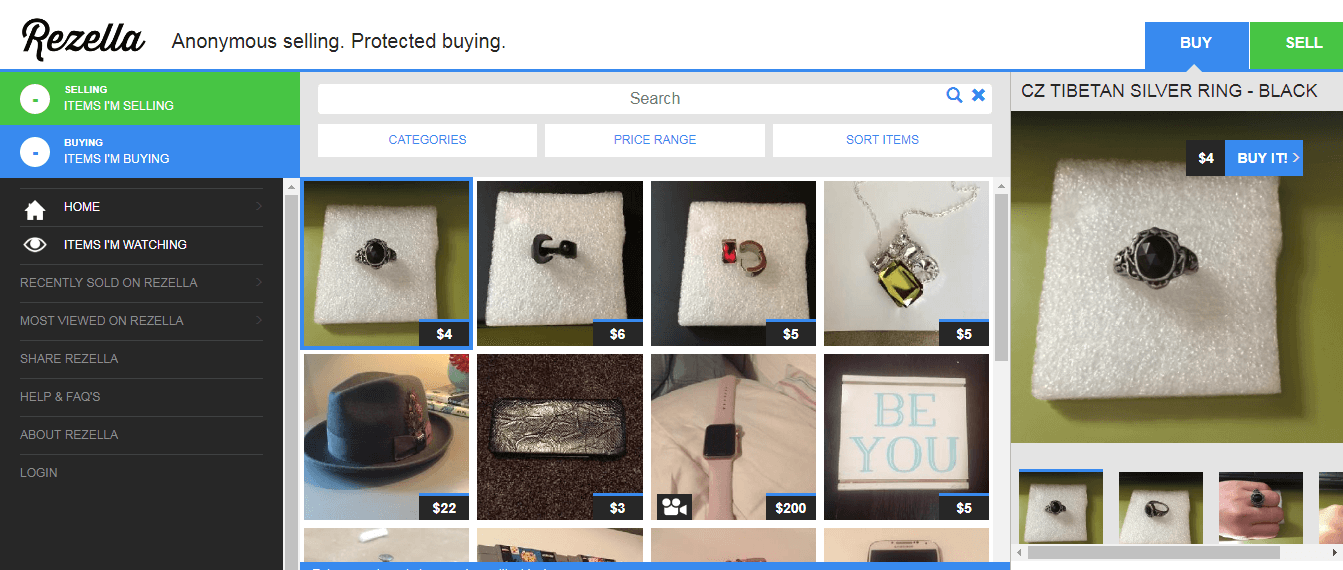 Rezellais one of the best ways to get rid of all second-hand stuff. It gives the comfort to post the images of the products and send to the buyers. You don't have to meet the buyers in person and still sell them the items. Rezella will help you in finding genuine buyers without much effort. Apart from that, this app gives you the advantage to put prepaid shipping labels on the items. You can get everything on this app.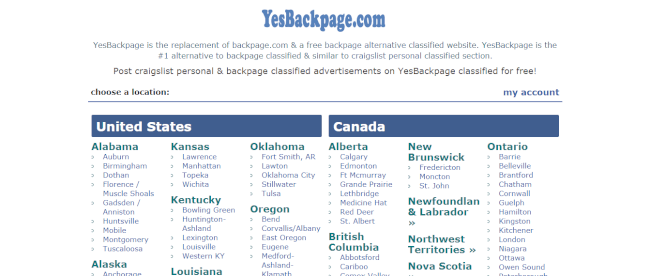 The next on the list of backpage like sites is YesBackpage. It is a free site to post items for selling. One can filter the search by different countries. Whether it is a dining table or a smartphone, YesBackpage will give you the right buyer. It shows the items into various categories for easy reference. One has to create an account to use this site and post images. The buyer will then contact you and agree on a certain price.
19. Luberpage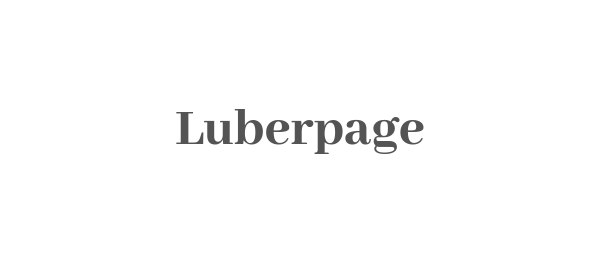 Luberpage is one of the best site where you can use for selling old things in your house. It works on all Platforms such as Windows, Mac, iOS, and Android. You can use hashtags to find a particular product or item on this site. It is used by more than millions of people all over the globe. The user interface of the site is very easy to understand for anyone. You have to put images of the items and the buyers will contact you quickly.
20. Osliki Classifieds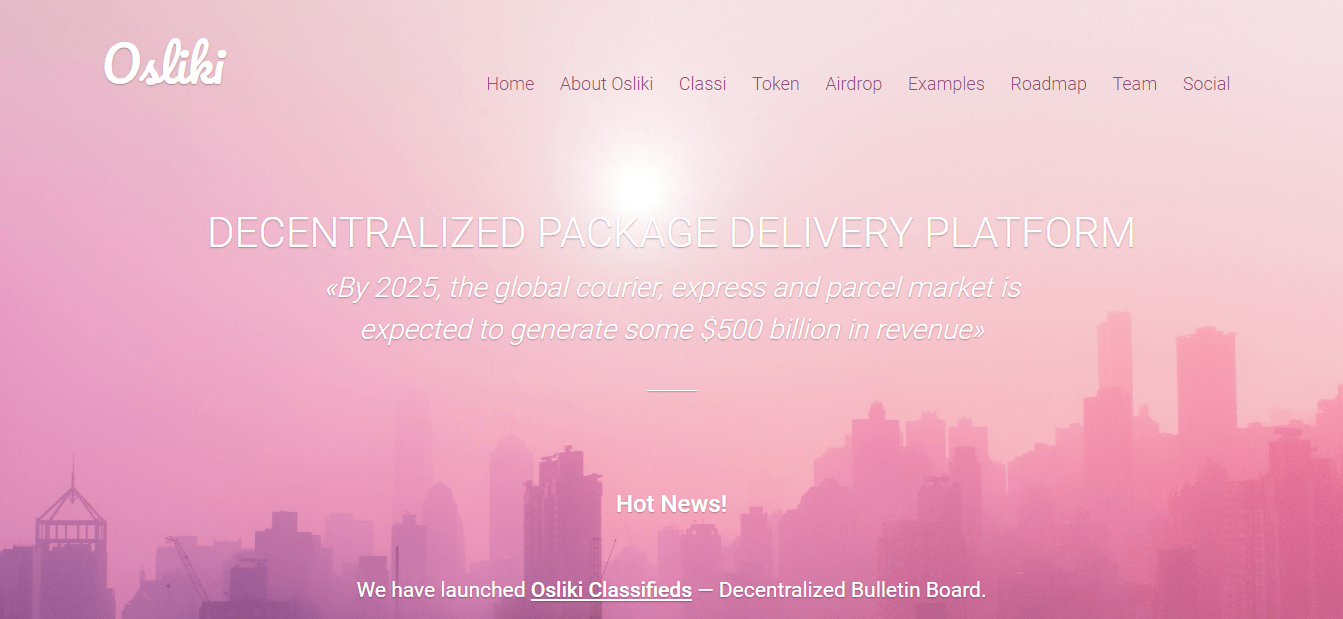 Another one on the list is Osliki Classifieds site. It is similar to other classified sites except for some features. It is a free classified site to sell the second hand and used items. The site checks all the details of the buyers and sellers and then carries the process of payment. Osliki Classifieds site is one of the safest places to buy and sell products.
21. Findermaster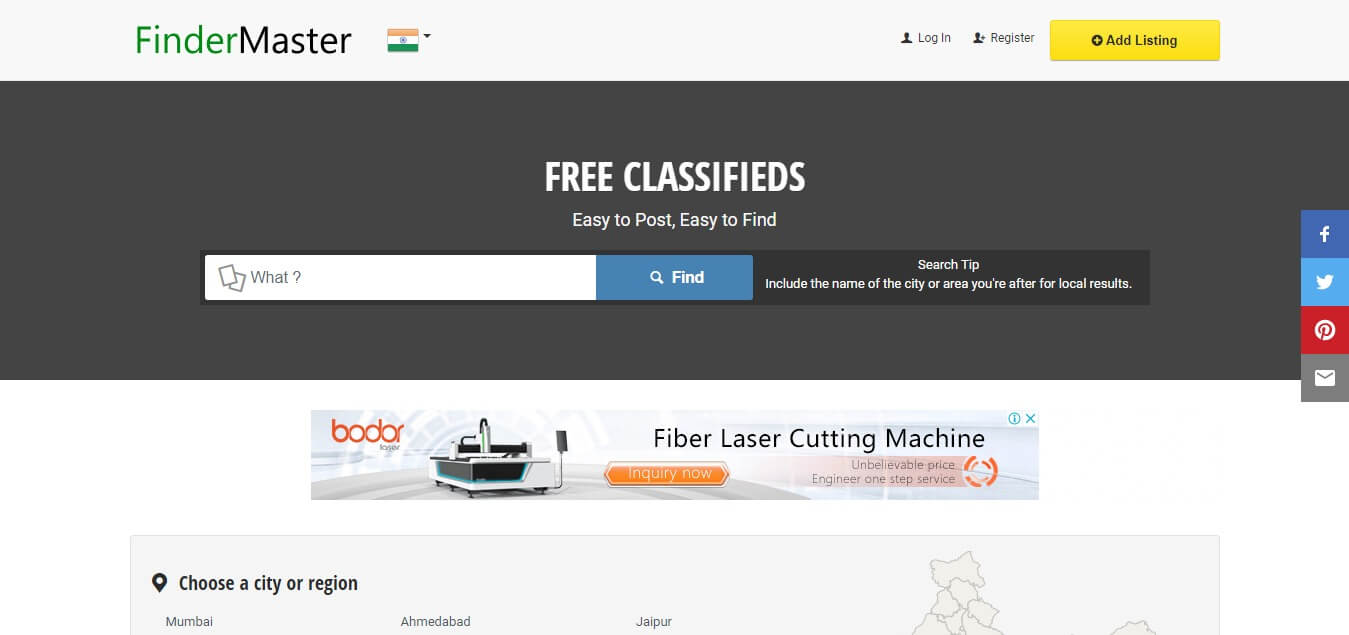 Findermaster is one of the best site you can use for selling and buying various items. You can post ads for free to sell your electronics, furniture or any other item on this site. All you require to do is to create an account to use this site.
Further, this site shows you the different categories in a beautiful way. You can sell or buy cars, homes, home products, electronics, and various other things through this platform. Findermaster also helps to you get the most genuine jobs in your area or town or city and services as well.
22. Tryst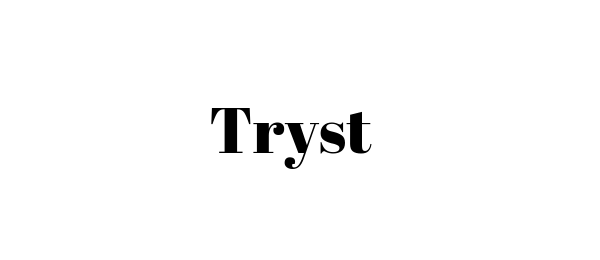 The next on the list is Tryst. You can buy or sell anything of your choice on this site. Tryst is a good way to sell your second-hand car, table, desk or chair of your home or office. Further, it shows some of the best deals on the homepage which are beneficial for you.
In addition to that, you can buy or sell homes, offices or land using this site. One of the major benefits of using Tryst is that you get the genuine and reliable buyers and sellers.
23. GiganticList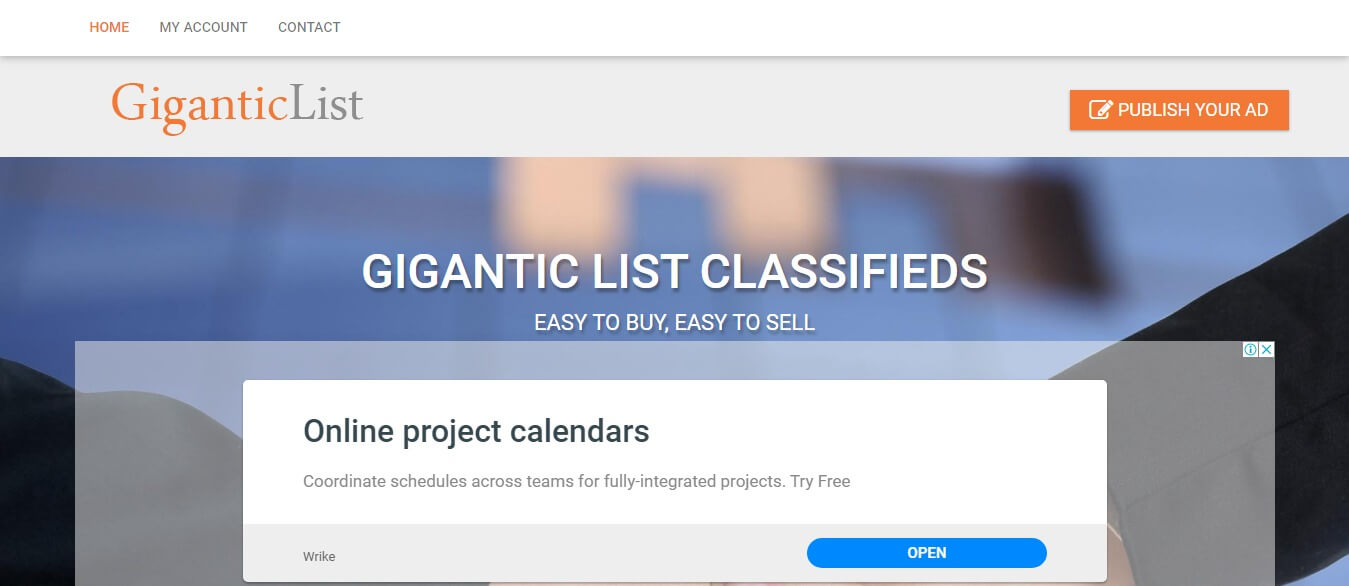 GiganticList can be included on the list of classified sites. You will get all the local classified ads on this site from trustworthy buyers and sellers. It displays the different categories in a nice way so that it becomes easy for you to choose what you want. You can easily book an appointment with a doctor or lawyer from Giganticlist site.
Additionally, this site helps to find the right job according to your post and qualification. It also has a community where you can ask users regarding the services of this site.
24. Domestic Sale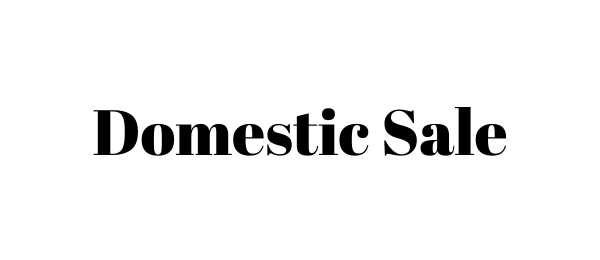 Domestic Sale is one of the most popular online platforms to find various services. It shows the various categories such as real estate, sales, and sales signs. The beautiful user interface makes it smooth for the customers to find the different services. You can post your ads for free of charge.
25. Hoobly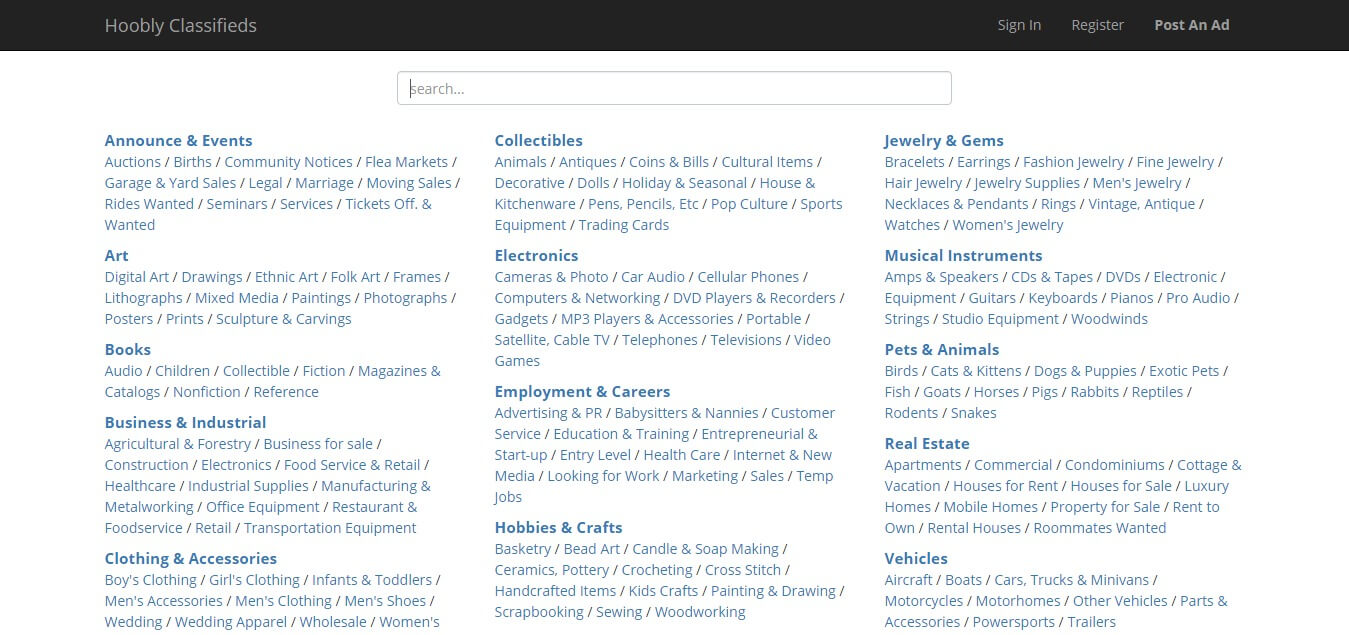 The next alternative on the list is Hoobly. It is a nice site to post free ads. This tool contains many categories such as jobs, real estate and car rentals for customers. Hoobly helps you connect with genuine sellers and buyers from different parts of the city.
26. LetGo
Founded in 2015 by Enrique Linares has gained lots of popularity. This is one of the best classified site to buy and sell products.
This site has a very smooth interface. You can list your product just with a single click. This site also has android and iOS app.
27.  Doublelist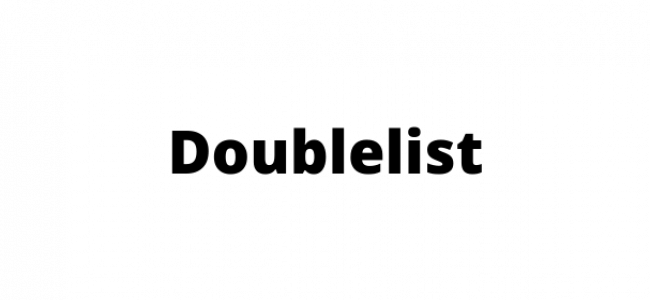 Doublelist is the famous name among singles. It is one of the most popular apps for dating and business. Further, this is the best site like Backpage that connects you to like-minded people from different countries. You can also find many customers using this app for growing your business.
Additionally, this tool helps you to manage the files and folders effectively. You can also create mobile apps with the help of the Doublelist tool. Apart from that, you can chat with new friends from various countries around the globe. Furthermore, it is a good tool for personal and professional life.
28. Facebook Marketplace
Due to it's vast user base Facebook Marketplace is one of the best classified site. Here you can easily discover, buy and sell items. You can simply visit buy and sell groups to post your classified ad. Here users can easily make use of these groups to buy and sell anything they want.
These backpage alternatives have been providing its services since a long time and have replaced all most all the print out outlets that we used to get from the newspaper, but classified ads have made it easier for consumers and sellers to post and search their requirement for any jobs and services.
Backpage Alternatives Frequent Asked Question
What is Backpage?
Backpage was the marketplace on which people used to buy and sell many items. But it closed in the year 2018 because of the adult services section. Besides, it also was involved with money laundering and other illegal acts. However, it ran successfully for 16 years and had every item on its list.
What is better than backpage?
There are many Backpage alternatives that you can try for buying or selling things. You can use Craigslist, Geebo, Bedpage, Free Ads Time, and other sites for trading. These sites have various categories like pets, real estate, services, automobiles, and jobs. Besides, they also provide reliable details of buyers and sellers.
No, Backpage is not safe to buy or sell any item. It has faced various legal issues because of selling illegal content.
craigslist lexington for sale by owner
massage parlour full service london
Hits: 0