Quick And Easy Dinner Recipes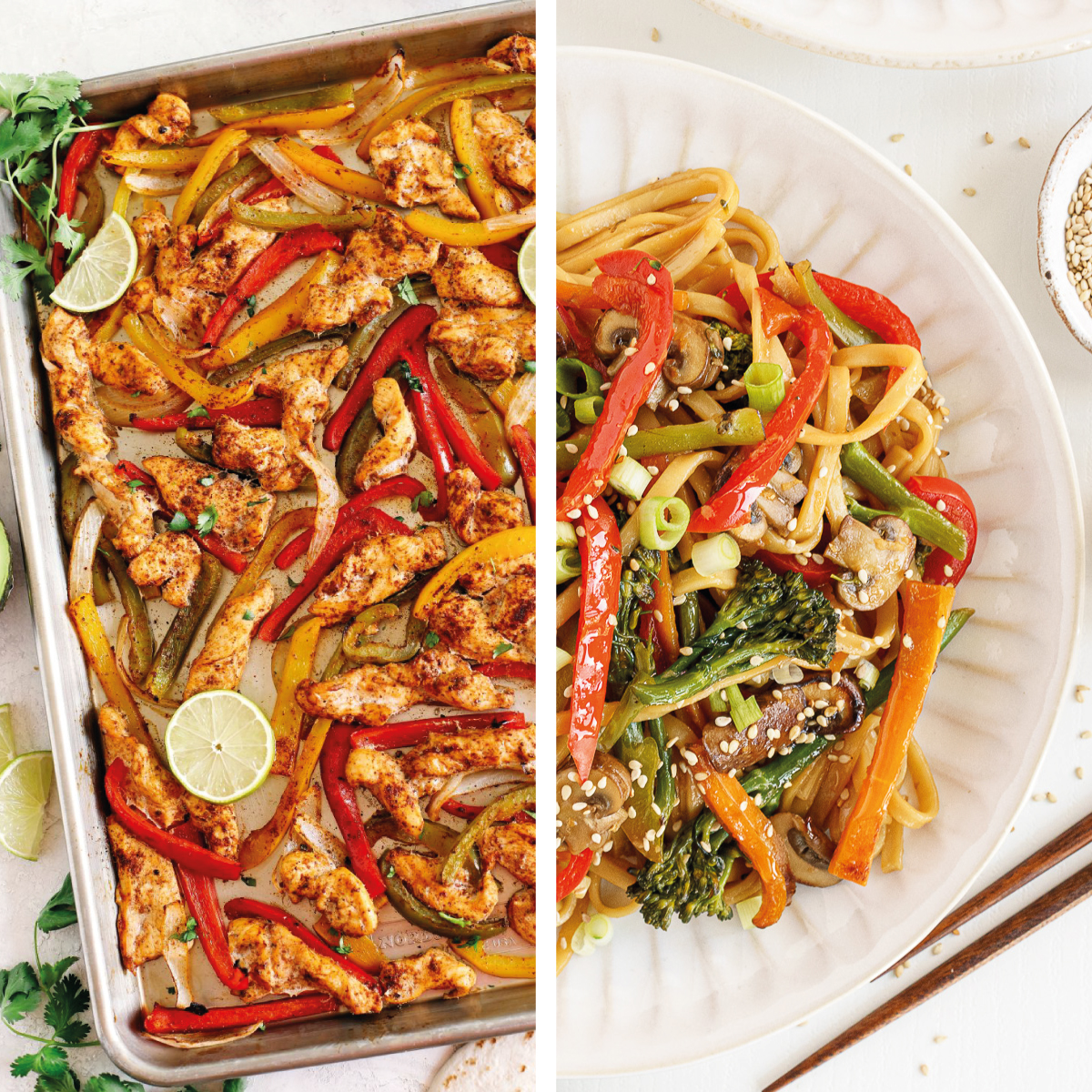 Some of the links below are affiliate links, so we may receive a commission, at no cost to you, if you make a purchase through a link. Check our disclosure for more info.
A COLLECTION OF THE MOST DELICIOUS QUICK AND EASY DINNER RECIPES YOU CAN MAKE IN 30 MIN OR LESS (EVEN IF YOU ARE NOT AN EXPERT COOK!)
Creamy Tomato Spinach Pasta by Making Thyme For Health
If you are here I know what you are looking for: delicious, quick, and easy recipes that are tasty but super-fast and simple to make.
Yes, I blog about food but both you and I have a busy life.
This means that, as much as we love eating healthy meals, we can't spend an hour cooking dinner every night.
This is why I put together this list of 50 quick dinner recipes that will help you to get your meals ready in no time.
These easy dinner ideas are full of whole foods, grains, veggies, and proteins to help you to find the right balance between lots of different essential nutrients your body needs to stay healthy.
Plus they are made with simple ingredients that are easy to find. I don't know about you, but I am not the kind of person that loves having to look for 325 ingredients to cook some pasta.
I love my dinners to be easy, simple, and quick.
But before we dive into my favorite dinner recipes, I want to share with you some tips that have helped me to cook at the speed of light. I hope these will come handy while you are cooking.
If you want to cook dinner super-quick (whether you have 15 minutes or 30 minutes to spend in the kitchen), you have to be organized.
If you don't have all your ingredients and equipment ready, you simply won't get your meals done on time.
So here my top 5 tips to cook faster:
1. Organize your kitchen utensils and make sure you have sharp knives
This is cooking 101. Put your most-used tools in the drawer closest to where you work and get the things you rarely use out of the way. Honestly, things like Christmas cookie cutters and that banana slicer you bought in a moment of craziness won't be useful while you cook dinner.
The only things you need around you are:
sharp knives
vegetable peeler
measuring cups and spoons
whisk
rubber spatula
wooden spoons
pots & pans
And I cannot stress enough how important it is to invest in some good quality knives. Cooking is just much harder and it takes three times as long when you have to saw through your veggies instead of slicing them like butter. You just need a couple of good knives and your life will change forever.
2. Keep pantry essentials accessible
Same as with utensils. Keep oil, salt, and pepper on your counter. And make sure things like sugar, vinegar, soy sauce, spices, and seasoning are easily accessible.
3. Read the recipe till the end before you start
Have you ever gone through a recipe only to find out halfway that your eggs need to be at room temperature or that you were supposed to warm up the oven? Make sure you read the recipe entirely before you start, so you'll have no surprises.
4. Have all the ingredients on the counter ready to go
I still remember that time I cooked the driest muffins on earth. I was supposed to add oil halfway through, but I simply forgot to add it because I didn't have it in front of me. Since that time, I learned to set out all the ingredients I need in front of me on the kitchen counter before I start cooking. Having everything ready staring at you not only will speed up your cooking, but it will help you to avoid forgetting a vital ingredient.
5. Multitask
If you want to cook dinner fast, there is nothing more helpful than doing many things as once. A few examples are: chop onions while the oil is heating up in the pan, measure your pasta while you are bringing the water to boil, chop veggies for your salad while the chicken is marinating, wash dirty dishes or put them in the dishwasher while things are cooking in the oven. It takes a bit of time and experience, but once you'll learn the basics, multitasking will come naturally.
And now, let's get cooking!
50 Quick And Easy Dinner Recipes
Feel free to click on an icon to jump straight to where you want.
15-MINUTE EASY DINNER IDEAS
Here is a list of my favorite, fast, tasty, affordable, healthy, and easy dinner recipes. Incredibly ready in 15 minutes or less. Yes!
15-MINUTE PASTA DINNER RECIPES
1. No-Cook Creamy Tomato Pasta
Full recipe on Gathering Dreams
This incredibly creamy and sweet tomato pasta is made with fresh tomatoes, almonds, garlic, basil, capers (optional), and extra virgin olive oil. You simply add everything in a food processor and toss. You can keep it vegan, or add some parmesan on top for extra flavor.
2. Pasta with peas
Full recipe on The Clever Meal
This Italian pasta with peas is a simple, creamy, and delicious one-pot dinner recipe. It uses simple ingredients and it's ready in no time. The ultimate tasty and affordable pasta recipe.
3. Spaghetti with garlic and olive oil
Full recipe on The Clever Meal
Another Italian classic: spaghetti aglio, olio e peperoncino. I can't remember how many times I cooked this pasta at the last minute. It's the perfect comfort pasta to cook when you have no ingredients available. So simple, yet so delicious. All you need is crushed garlic, chili, extra-virgin olive oil, and some grated parmesan cheese.
4. Walnut Sauce Pasta by The Clever Meal ~ 5. Easy Canned Tuna Pasta by Salt And Lavender
15-MINUTE VEGAN DINNER RECIPES
6. 10-Minute Chickpea Curry
Full recipe on Gathering Dreams
This is my favorite easy dinner recipe. I make this curry at least once a week and never get tired of it. It's made with simple and nutritious ingredients that you can find pretty much in any kitchen. Here I used fresh spinach but you can easily use frozen spinach if you have some in the freezer. I cook this when I meal prep for the week too as it easily lasts a few days in the fridge.
7. Rainbow "Raw-Maine" Taco Boats
Full recipe on Minimalist Baker
I love these colorful salad boats! They are perfect for a quick and easy light dinner. They are filled with hummus, fresh veggies, sprouts, and a creamy tahini sauce. Perfect for when you don't have time and can't be bothered to cook at all as everything is raw.
8. Panzanella Salad
Full recipe on Gathering Dreams
If you have some tomatoes, onions and stale bread you have most of the essential ingredients for this deliciously simple Tuscan salad. Ready in a few minutes, you can prep this ahead so you don't have to worry about getting dinner ready at the last minute.
9. Mashed Chickpea Tabuleth Salad by Running On Real Food ~ 10. 10-Minute Creamy Vegan Bean and Aubergine Casserole by Lauren Caris Cooks
15-MINUTE VEGETARIAN DINNER RECIPES
11. Vegetarian Tacos with Avocado Sauce
Full recipe on Love & Lemons
Who doesn't love tacos? Loaded with simple roasted veggies and a tangy avocado-tomatillo sauce, these vegetarian tacos are an easy weeknight dinner full of flavor.
12. 15-Minute Lo Mein
Found on Pinch of Yum
Stir fry dinners are so easy to make. All you need is just some chopped veggies and a hot pan. And this 15-minute wonder is perfect for a quick Asian noodle stir fry.
13. 10-Minute Margherita Naan Pizza by Salt And Lavander ~ 14. 10-Minute Quesadillas by Cookie + Kate
15-MINUTE CHICKEN DINNER RECIPES
15. Blackened Chicken and Avocado Salad
Full recipe on Eat Well 101
Chicken is one of the easiest meat to cook for dinner when you are short on time. And crisp and full of flavor, this easy chicken salad recipe with avocado is the simplest and healthiest meal you can make!
16. Chinese Chicken Salad
Full recipe on RecipeTin Eats
This salad is all about the delicious Asian Dressing and the slaw-type shape of the ingredients. Don't skip the crunchy noodles, they totally make this salad irresistible!
17.15 Minute Sweet and Spicy Chicken Zoodles
Full recipe on Salt And Lavender
If you are looking for a low-carb dinner recipe, this is it! It's made with spiralized zucchini. I love spiralizing veggies. And these sweet and spicy chicken zoodles are a quick and easy low-carb dinner recipe that's fresh and flavorful. A perfectly simple and easy chicken recipe!
If you would like to try more low-carb spiralizer recipes check out these 21 GENIUS WAYS TO USE YOUR SPIRALIZER
18. 10-Minute Teriyaki Chicken & Broccoli by A Simple Palate ~ 19. 15-Minute Spicy Chicken by Seasons & Suppers
15-MINUTE FISH DINNER RECIPES
20. 15 Minute Garlic Shrimp Zoodles
Full recipe on Salt And Lavender
Another low-carb zoodle recipe, this time with sweet and tasty garlic roasted shrimp. Lemon adds a bit of tanginess and freshness to the zucchini noodles.
21. Parmesan Crumbed Fish
Full recipe on RecipeTin Eats
Have you ever found yourself with some fish in the fridge or freezer and without any idea of what to prep for dinner? Well, this quick emergency fish recipe is perfect with any fish fillet you have. It's a super-healthy fish recipe ready in no time with a delicious golden baked crust.
22. Farmer's Market Spicy Tuna Wraps
Full recipe on Ambitious Kitchen
Sometimes, if I am in a hurry I put together a quick wrap for dinner. And these tuna wraps are just delicious. Full of fresh veggies and drizzled with light chipotle Greek yogurt ranch dressing.
23. EASY Chimichurri Baked Salmon by Eat Yourself Skinny ~ 24. Honey Garlic Salmon by RecipeTin Eats
30-MINUTE EASY DINNER IDEAS
If you can spare 30 minutes of your time to cook dinner, I have for you some incredibly good-for-you yet yummy recipes that everyone in your family will love. All these dinner recipes are easy to prepare and are made with whole ingredients. They are filling and nutritious, perfect as your last meal of the day.
30-MINUTE PASTA DINNER RECIPES
25. Baked Gnocchi with Spinach and Mozzarella
Full recipe on Taming Twins
Potato gnocchi is one of my favorite dinner recipes. And if you don't have time to make your own, you can just buy them ready to be used. This vegetarian baked gnocchi recipe is quick and tasty. A super-simple sauce, packed with spinach and tomatoes, is topped with mozzarella cheese for the perfect easy comfort food supper.
26. Black Kale Pesto Pasta
Full recipe on Gathering Dreams
Pesto is an old-time favorite, as you just put all the ingredients in a blender, cook pasta al dente and you are set for dinner. This black kale pesto recipe is made with cavolo nero. It's a recipe that I discovered for the first time in Florence. Delicious. If you don't have black kale you can simply use normal kale. It will be just as good.
27. Pasta e Ceci (Pasta with Chickpeas)
Full recipe on The Clever Meal
An easy recipe that is going to warm you up in the evenings. Pasta with chickpeas, also known as pasta e ceci in Italian, is a delicious one-pot family meal ready in less than 30 mins. It's easy, naturally vegan, creamy and full of plant-based protein.
28. Roasted Eggplant Pasta by A Simple Palate ~ 29. Vegan One Pot Creamy Mushroom Pasta by Delicious Everyday
30-MINUTE VEGAN DINNER RECIPES
30. Mexican Quinoa
Full recipe on Gathering Dreams
If thinking about black beans, juicy tomatoes, crunchy sweet corn, and creamy avocados makes you drool, this Mexican Quinoa is the perfect dinner recipe you are looking for. It's healthy, flavorful plus it's super easy: you just need one pan and little prep time! Plus it's vegan and gluten-free.
31. Vegan Paella
Full recipe on Lazy Cat Kitchen
I just made this for dinner on Sunday and it was so good. You don't need to use the veggies in the recipe. Anything you have in your fridge or freezer works! I made it with zucchini, frozen peas and I've added some olives. It's so easy!
32. Coconut Lentil Curry
Full recipe on Gathering Dreams
This gluten-free, dairy-free, and vegan coconut curry is made with canned lentils and rich coconut milk cream. You can serve it over rice or with naan bread for a hearty, filling, and flavorful plant-based meal.
33. Vegan Yaki Udon
Full recipe on Lazy Cat Kitchen
This Yaki udon dinner recipe comes together quickly, it's delicious and very satisfying. It's easy to make and full of umami flavor. Like any stir-fry type dish, it is very flexible: you can use any veggies you like, but make sure you add hardier vegetables to the wok first. You could cook the noodles from dry, but if you want to speed things up, use pre-cooked noodles.
34. Ginger Carrot Soup by Gathering Dreams ~35. 30-Minute Potato Califlour Red Lentil Curry by Minimalist Baker
30-MINUTE VEGETARIAN DINNER RECIPES
36. Crispy Quinoa Sweet Potato Fritters
Full recipe on Minimalist Baker
These sweet potato fritters are easy to make and are full of wholesome ingredients: quinoa, spinach, and eggs! I normally eat these with a nice green salad and I am done in about 30 minutes. A delicious, gluten-free vegetarian dinner!
37. Frittata
Full recipe on Love & Lemons
Frittata is so versatile. It's perfect for lunch and dinner. Plus it's super-simple to make. Yes, it takes 30 minutes, but you'll spend most of the time looking at it cooking in the oven. It really takes 5 minutes to put together. Delicious and rich in protein.
38. Israeli Pearl Couscous Salad with Feta and Mint
Full recipe on Well Plated
I love couscous as a quick dinner idea. I eat it warm in the winter and chilled in the summer. It's extremely versatile and you can add any type of veggies to it. This Israeli couscous salad is made with feta, mint, and a smoked paprika lemon dressing.
39. Vegetarian Enchiladas by Well Plated ~ 40. White Bean Soup by The Clever Meal
30-MINUTE CHICKEN DINNER RECIPES
41. 30-Minute Sesame Chicken Green Bean Stir Fry
Full recipe on Ambitious Kitchen
Again, another delicious stir fry! This healthy sesame chicken green bean stir fry is made with fresh green beans, carrots and red bell pepper all cooked in a flavorful sesame ginger sauce. This stir fry is perfect as a protein-packed weeknight dinner. You can eat it with rice, cauliflower rice or quinoa, or it's perfect on its own if you prefer a low-carb option.
42. Baked Paleo Chicken Tenders
Full recipe on Ambitious Kitchen
Both kids and adults will love these delicious baked paleo chicken tenders. They are made with a mix of almond and coconut flour and baked to perfection. Perfect for a quick and easy dinner.
43. One-Pot Chicken Soup With White Beans and Kale
Full recipe on Minimalist Baker
If you are after a cozy, warming yet simple chicken soup, this is it. Made with 8 simple, wholesome ingredients like white beans and kale, this soup is nourishing, hearty, and incredibly comforting!
44. Garlic Lime Chicken Tenders and Quinoa by Eat Well 101 ~ 45. Asado Chicken and Sauteed Lemon Zucchini by Eat Well 101
30-MINUTE FISH DINNER RECIPES
46. Coconut Curry Salmon
Full recipe on Pinch Of Yum
This curry salmon is made with broiled salmon, a creamy coconut curry sauce, and steamy rice to soak up all the delicious juice.
47. Easy 20-Minute Fish Stew
Full recipe on Garden In The Kitchen
This easy 20-minutes fish stew is cooked in a delicious, rich and fragrant broth, topped with fresh cilantro and served over quinoa or rice.
48. Easy Thai Shrimp Curry
Full recipe on Salt And Lavender
An easy Thai shrimp curry recipe that is quick, simple, and with plenty of delicious sauce for your rice! The perfect dinner ready in less than 30 minutes.
49. Grilled Fish Tacos by Minimalist Baker ~ 50. Salmon Cobb Salad by Salt And Lavender
Dinner is ready!
There you have it!
50 quick and easy dinner recipes that will help you survive in the kitchen! Whether you are preparing and easy dinner recipes for two or you are after easy dinner ideas for kids, here you will find what you are looking for.
FOR MORE RECIPE IDEAS:
50 SUMMER DINNER IDEAS
25 MEAL PREP IDEAS IN UNDER 30 MIN
Quick And Easy Dinner Recipes
No reason to stress over dinner: anyone can make these delicious, quick, and easy dinner recipes (even if you are not an expert cook).
Cook Time30 mins
Total Time30 mins
Course: Main Course
Cuisine: American
Keyword: Dinner Ideas, Dinner Recipes, Easy Dinner Ideas, Easy Dinner Recipes, Quick And Easy Dinner Recipes, Quick Dinner Recipes
Servings: 4 servings
Author: Sara @ Gathering Dreams
Whole Grains and Cereals
Pasta (whole-wheat, gluten-free)
Quinoa
Buckwheat
Rice (brown, white, basmati)
Vegetables
Broccoli
Tomatoes
Sweet Potatoes
Carrots
Arugula
Cauliflower
Bell Peppers
Beet Greens
Proteins
Beans
Lentils
Tofu
Tempeh
Chicken
Fish
Select a recipe: you can pick between 15-minute meals and 30-minute meals.
Organize your ingredients and get ready to cook.
Prep a delicious, quick, and easy dinner in no time!
Hits: 0