This site is not actively updated. Our last full site update was in early 2018, and this project is not being actively updated at this time. Thank you to all of our loyal users over the past several years.
Choosing the best place to sell online can seem like an impossible task. Many people start by looking at two of the most profitable and well-known online marketplace sites. Amazon and eBay are household names across the United States (and probably worldwide, too). Both enormous multi-billion dollar companies are wildly successful, but not without their flaws.
It might seem obvious which site is the clear winner, but our conclusion might surprise you.
Why sell on Amazon?
If you could look inside the brain of every person on Earth, it would be rare to find someone who hasn't heard of Amazon. Amazon has grown into quite an ecommerce juggernaut since it was founded in 1994. Recently, it was even named the most valuable retailer in the country (surpassing even Walmart).
Amazon sells products in every category imaginable – their mission is to become the "Earth's most customer-centric company where customers can find and discover anything they might want to buy online." Amazon shows no signs of slowing down, and it doesn't seem like American consumers want them to: their valuation has ballooned to $50 billion, and their stock price of $535 has soared.
But in some ways, they aren't even close to the popularity of eBay.
Why sell on eBay?
eBay has been running the game for years, pioneering the third-party marketplace business model early on. eBay, who hosts both live-auction and fixed-price items in 36 countries, prides itself on "enabling economic opportunity around the world."
While it may seem that Amazon has eclipsed eBay, both platforms are successful in different ways. It's clear that eBay is still a major player in the ecommerce world – they have 25 million sellers worldwide.
So, which marketplace is right for you? We decided to give you a quick run-down on the basic features of both online selling sites to help make the decision a bit easier.
Who has the lowest fees?
eBay has a bad reputation among ecommerce sites, earning the nickname "Feebay" from many internet bullies. However, when you compare what it would cost to sell the same item on each site, the results tell a different story.
For this experiment, we compared the free memberships of eBay and Amazon. Here's a breakdown of the different fees that each marketplace charges:
Monthly fee – This is the fee each month that sellers pay to sell on the platform.
Listing fee – This is the fee that is charged each time you list an item. As a seller, you are charged the listing fee whether or not the item sells.
Final value fee – The final value fee (FVF) is the commission percentage that each marketplace keeps from your sale.
Closing fee – This is the fee that a platform charges once you've sold an item.
Paypal fee – Sellers who accept payment through Paypal must also pay a fee to use their service.
Example 1: Books
Sale Price
$30.00
eBay Learn More About eBay | Start Selling on eBay
 Amazon   Learn More About Amazon | Start Selling on Amazon
Final Value Fee
$3.40
$4.50
Closing Fee
$0.00
$1.35
Listing Fee
$0.30
$0.99
Paypal Fee
$1.17
$0.00
Total Fees
$4.87
$6.84
Total Profit
$25.13
$23.16
Profit Margin
83.77%
77.20%
Example 2: DVDs
Sale Price
$15.00
eBay Learn More About eBay | Start Selling on eBay
 Amazon   Learn More About Amazon | Start Selling on Amazon
Final Value Fee
$2.12
$2.25
Closing Fee
$0.00
$1.35
Listing Fee
$0.30
$0.99
Paypal Fee
$0.75
$0.00
Total Fees
$3.16
$4.59
Total Profit
$11.85
$10.41
Profit Margin
78.97%
69.40%
Example 3: Watches
Sale Price
$250.00
eBay Learn More About eBay | Start Selling on eBay
 Amazon   Learn More About Amazon | Start Selling on Amazon
Final Value Fee
$25.75
$37.50
Closing Fee
$0.00
$0.75
Listing Fee
$0.30
$0.99
Paypal Fee
$7.55
$0.00
Total Fees
$33.60
$39.24
Total Profit
$216.40
$210.76
Profit Margin
86.56%
84.30%
Example 4: Furniture
Sale Price
$1,300.00
eBay Learn More About eBay | Start Selling on eBay
 Amazon   Learn More About Amazon | Start Selling on Amazon
Final Value Fee
$133.45
$195.00
Closing Fee
$0.00
$3.45
Listing Fee
$0.30
$0.99
Paypal Fee
$38.00
$0.00
Total Fees
$171.75
$199.94
Total Profit
$1,128.25
$1,100.56
Profit Margin
86.79%
84.66%
After running four tests, we discovered that Amazon fees were higher than eBay fees across the board. eBay charges 10% FVF, while Amazon charges 15%. Also, eBay does not charge a closing fee. Amazon charges their closing fee based on the type of item you sold. If it was a media product (books, movie, music, etc.) the closing fee is a flat rate of $1.35. If you sold a non-media product (furniture, clothing, etc.) the closing fee is a flat rate of $0.45 plus $0.05/lb.
The only fee that eBay charges that Amazon does not is the Paypal fee. This is 2.9% of the sale price plus a flat rate of $0.30.
Winner: eBay – sellers keep an average of 5.13% more of their profits than if they sold the item on Amazon.
For a more in-depth fee comparison of all our featured marketplaces, visit our marketplace fees example page.
Which site has more shoppers?
When it comes to traffic statistics, most sites don't even come close to competing with the performance of these online selling sites. Both Amazon and eBay have bounce rates under 25%. This means that over 75% of shoppers view more than one page on the site.
What's more, those shoppers browse these marketplaces for astounding lengths (11 minutes, 32 seconds on Amazon and 13 minutes, 10 seconds on eBay). One explanation for the high amount of time shoppers spend on eBay is that shoppers are spending time "watching" the auctions they want to win. It's also possible that users stay on Amazon so long because their catalog of items is so immense, shoppers have many results to sift through.
Winner: Tie – both sites get insane levels of relevant and engaged traffic.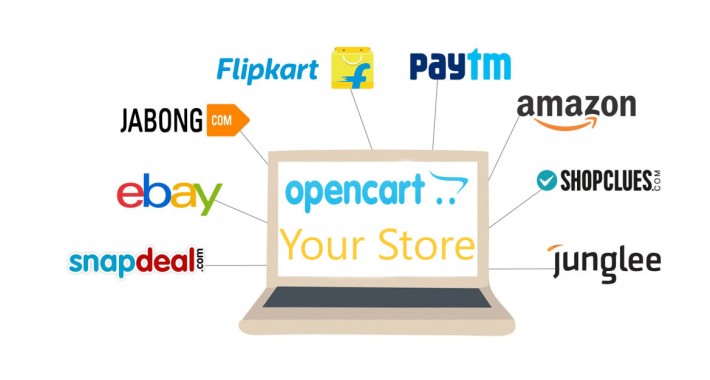 The selling tools provided by a marketplace can be a major draw for online merchants. Unfortunately, this is an area where both eBay and Amazon seem to come up a bit short. On one hand, eBay has options for shop analytics and seller success tips – but only for those willing to pay. On the other hand, social media integration, shop analytics and tips for seller success are missing altogether from Amazon's seller toolbelt.
One reason for Amazon's missing tools could be that the company was initially created to provide online shoppers with an easy and convenient experience. Online merchants were invited to sell on Amazon a few years later, so seller tools weren't an aspect of Amazon's original business model. Although Amazon does offer some pretty great services for their shoppers, they provide minimum tools to help guide their sellers.
Winner: eBay – having the option to purchase tools is better than no tools at all.
So…which one should I use?
When selling products online, it's nearly impossible to compare apples to apples (or, in this case, marketplaces to marketplaces). We've done our best to take a look at some of the major factors that online sellers seem to consider when choosing the best place to sell online. Ultimately, different marketplaces will be better fits for different people, but hopefully this data can help you make your decision. Many online sellers choose to sell on multiple platforms, so you can pick which one is best for you when starting out and then consider selling on both once you're established.
If you'd like to read more about Amazon and eBay's biggest competitors, check out our marketplace overviews.
Hits: 0