Bollywood is always known for its sheer number of talents. In this industry each and every person has to survive with high intensified work and full professional dedication. In the recent years, it has been noted that increasingly the actresses have started a new trend in the tinsel town. Each and every actress now attempts to do some exceptional work among which few had really reached a milestone in 2015. The year has not only seen the dedication and high-profile work by these actresses, but few of these Indian divas had taken a big leap to Hollywood and are currently working on their debuting project in Hollywood. Well, these actresses have definitely made it too far and were trying their best to leave a mark over there also. Following this, below I have mentioned the names of those Bollywood actresses who had recently gone to Hollywood for their debuting movie and among them first is Priyanka Chopra Born on 18 July 1982, Priyanka Chopra is an establ >> Read More…
Priyanka Chopra
The actress was one such Bollywood Diva, who was continuously amazing people with her brilliant work. Her sheer dedication towards her work and pure professionalism was what makes her a versatile artist. She is a multi-talented individual and was Inspiring many. Priyanka Chopra has recently done a Foreign show named ' Quantico Click to look into! >> Read More…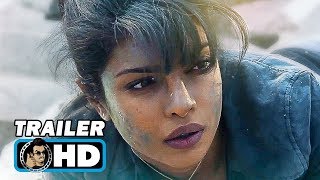 ' where she acted as an FBI agent. Her work has got a very good recognition throughout the world. Recently, it was heard that the lady had signed a Hollywood project, which will soon take her flight off as a well known Hollywood actress as well. Priyanka Chopra is a sheer example of perfection and professionalism. Her work is what makes her a unique individual and she was an inspiration to many. Well, as Priyanka Chopra is booming with her high career projects and apprentices, Deepika Padukone Deepika Padukone is an Indian actress and model. S >> Read More…
was another who was following her path on the way to Hollywood.
Deepika Padukone
The actress has been another who had made a great journey from Bollywood to Hollywood. Deepika Padukone was one such actress of the Hindi Film Industry who has achieved great success in a very short span of time. Recently, she was heard of starting her first Hollywood debut 'The Return Of Xander Cage.' Well, Deepika has already made a long way in Bollywood. Hope that she will continue with her spirit in Hollywood as well. Apart from Priyanka Chopra and Deepika Padukone, Kangana Ranaut National award winner Kangana Ranaut… >> Read More…
is another who was heard to make her debut in Hollywood soon.
Kangana Ranaut
The actress was among the top actress of the Hindi Film Industry and was also praised for her several times. Recently she has received a National Award for her work in ' Queen Click to look into! >> Read More…
'. Apart from all these, the lady is heard to have her first Hollywood Debut in Hollywood. The kind of work Kangana does in Bollywood was always appreciable. Following this hope that she could make her Hollywood career success as well. Apart from these actresses, there are others also who have tried their luck in Hollywood, but none of them really became successful in their Holywood career. However, looking forward to the Hollywood careers of these actresses.
indian actress,indian actresses,indian actress sex,indian american actresses,indian actresses in hollywood,
Hits: 0