Mawra Hocane has proved her mettle in her films and drama performances throughout her nine-year career.
Jawani Phir Nahi Aani 2 was the film with which she entered the Pakistani film industry two years ago.
It was the highest grosser film of that year. However, beyond that, not many people would know that the starlet loves to read books.
From Mawra Hocane's Instagram, we have gotten some nerdy info for you all.
Mawra Hocane, on social media, keeps posting about the books that she reads, often. So, in this article, the Meraki brings some info from Mawra Hocane Instagram.
Here are a few of those books that people can find on social media sites of Mawra Hocane.
If someone goes through them, then they will get inspired and know why they should read these books.
What is 'And the Mountains Echoed' of Khaled Hosseini About?
Khaled Hosseini is a famous novelist in Afghanistan.To add more, the setting of his third novel is modern Afghan history. And he uses simple imagery.
However, his books have clear images and fabulous language. He uses human elements, talks about society, culture, family dynamics, and generation gaps.
Does 'And the Mountains Echoed' Have More Qualities?
The characters of this story have unbreakable connections, for example, the brother-sister bond of Abdullah and Pari.
However, readers can see their short-comings too. This novel fills hearts with sorrow. However, it is relatable, thought-provoking, and motivating.
Why Does Mawra Hocane's Instagram has And the Mountains Echoed?
A large part of this masterpiece is about sibling love. And it is about family connections.
If people scroll down Mawra Hocane's Instagram pictures, then they will realize that the actress is family-oriented.
On social media, Mawra Hocane has confessed that she loves her sister.
She is the most significant part of her life and inspiration.
Why Mawra Hocane Adores 'And The Mountains Echoed'?
Sharing Mawra Hocane's Instagram pictures, she uploads pictures from this book. And she said in the caption that she loves her siblings to the moon and back.
She is close to her brother and mother too. Mawra Hocane confessed in an interview that she is an expert cook. And she can make delicious Pakistani Biryani because of her mom.
Her mother motivates her for everything in life. Her love for her family oozes out of her social media accounts.
What is Arundhati Roy's 'The Ministry of Utmost Happiness 'About?
Publishers published The Ministry of Utmost Happiness in 2017. And it is the well-known novelist Arundhati Roy, the Indian author's second novel. While the first one is 1997's The God of Small Things, and it is worth it.
It is a captivating story of affection, and there are no minute amounts of miseries. And it is humanistic too. Both main characters have unique charismas. However, time is not gentle but brutal to them.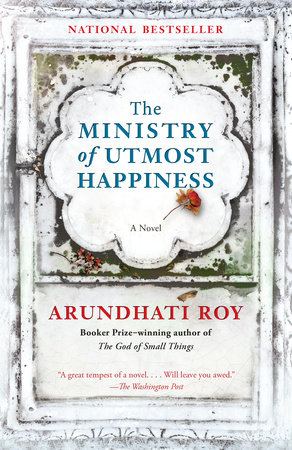 Is The Ministry of Utmost Happiness on Struggles, Identities, and Survival?
It is a story of someone who struggles to make themselves free of the shackles of Kashmir's freedom movement. So, the author aims to convey a message to her readers that everyone builds his identity.
Her characters toil hard to survive in a hard world. Moreover, the novelist points out that society does not define who they are.
The characters break through the barriers of gender, religion, and culture. So, these are the details on Mawra Hocane Instagram.
Why does Mawra Hocane Instagram has 'The Ministry of Utmost Happiness'?
Mawra Hocane's social media sites prove that the Sabaat actress believes in the same principles that Roy wants her readers to have faith.
Mawra Hocane is fearless.
Her followers on social media accounts are aware of the fact that from speaking her mind, nothing stops her.
And she would seldom shy away from it. She uses her influences and voice always for the right reason and the right way.
Is Making Your Identity Important?
So, fans follow Mawra Hocane on social media. She believes in making her identity herself. And she speaks her mind because no one needs to stay bound to social restrictions.
Is Not Taking Criticism to Heart Helpful?
On Instagram pages of Mawra Hocane, she adds that she does not take someone's criticism to her heart ever. If she did that, then she would have to stop working. The talented starlet points out that she would not prove her point in front of anyone then.
Should We Talk About Mental Health?
Mawra Hocane did not feel it awkward to speak about her mental illness too. She accepted that she has social anxiety. And she continues to look for ways to handle it.
She thinks that she does not ponder over what people say. She never gives explanations because they will hear what they want to. However, they will ignore the rest.
What are Paulo Coelho's Famous Books About? Who is the Author Paulo Coelho?
Paulo Coelho's parents had admitted him to a psychological hospital during his younger days. They thought that his revolting nature was a sign of some mental issues. He was even under the electric-shock treatment at the hospital.
The author traveled around South America after he dropped out of law school in his twenties. He chose journalism as a profession later. Paulo Coelho had always wanted to become a writer.
However, he made up his mind to pursue his lifelong wish after a life-altering pilgrimage to Santiago de Compostela.
The 10 Best Books by Paulo Coelho You Must Read
What is the book Eleven Minutes About?
In 2003, Eleven Minutes of Paulo Coelho got published.
It is a story about realities varying from desires or expectations. In other words, society pushes the main lead in the wrong profession.
They introduce them to something that the world considers socially inappropriate. However, they accept that with no guilt.
It is about enigmas, loss, self-reconciliation, and life. Social media of Mawra Hocane has posts about this book.
What is the book 'Brida' About?
In 1990, Brida of Paulo Coelho got published.
It is a search for the wise, knowledge, fascination for magic, and spiritual universes. And a belief in the goodness of galaxies and conquering the battles of fear.
It is about invoking the moon and moving to the rhythms and tunes of the world. It is about meeting destiny, love, spirituality, passion, and mystery.
Hence, Mawra Hocane on social media posts about the novel.
What is the book 'Manuscript Found in Accra' About?
In 2012, publishers published Manuscript Found in Accra of Paulo Coelho.
It is a tale of crusades, Jerusalem, mystery, and the battles of different religions. And it is about the search of peace and harmony, slaughter, cruel murders, and defeating enemies to dust.
It is about what life teaches people, not the strategies or rules of war. The novel calls readers to ponder over humanity.
In the middle of chaos and destruction, this book asks readers if they still have everything that they consider significant in life.
It asks them if the miseries of life have destroyed their precious belongings long ago. So, the VJ, Mawra Hocane, on Instagram pages, posts about this book.
Why Does Mawra Hocane Instagram shows Love for Paulo Coelho's Famous Books?
On social media, Mawra Hocane expressed her undying support with the people of Kashmir. The grief could not let her catch some zees. She condemned the act of killing others for power.
A world hungry for authority is not a beautiful place to live in for her. Mawra Hocane is a part of the Ali Zafar Foundation that collects funds to give edibles to the minorities and daily wagers at their doorsteps.
She voiced out on Mawra Hocane's social media accounts that her heart shattered in bits. That is to say, the brutal massacre in Sudan's capital city Khartoum in recent times crushed it.
She pointed out in that post that individuals rarely believe in humanity. However, they have become greedy and hungry for power, influence, and authority. Greed is insatiable, blind, destructive, consuming, and cruel. However, instead of supporting the barbaric, people ought to stand against them.
So, the famous model of Pakistan Mawra Hocane on social media roots for the education of girls.
Mawra Hocane is the Aangan star and Lux and Fair and Lovely ambassador.
She believes love encourages everyone to become compassionate. Adoration is an answer that motivates them to become kind and generous to humanity.
Everybody needs love. So, the star uses her social media accounts to promote the message of peace.
She thinks that all the actors, for example, are mature and wise enough. So, they can co-exist, co-operate with each other, and work together.
She believes that no one ought to ridicule others. They do not need to mock at or make fun of appearance, looks, and body images.
And she feels proud of the work of her contemporary actors. Possibly, it positively affects the entertainment industry.
Mawra Hocane Instagram admires Paulo Coelho for believing that life makes individuals withstanding. So, they can stay blissful.
Social media of Mawra Hocane thinks that the purpose of life is love and adoration only. At times, the melancholy of the tiring journey of life makes people shed a couple of tears because of tragedies. However, the drops of tears of sadness make touches of melancholy go away.
So, Mawra Hocane on Instagram pages posts about these books. These are the books that she is reading, and you should read too.
4 5 votes
Article Rating
pakistani tv actresses,Sana Javed,Sajal Aly,Aiman Khan,Ayeza Khan,Aiman Khan,Sana Javed,Sajal Aly,Meera,Ayesha Omar,Mawra Hocane,pakistani actresses,pakistani actress,pakistani stage actress scandal sex .com,pakistani actresses,pakistani drama actresses,sara khan pakistani actress,pakistani stage actress,Highest Paid Pakistani Actresses,Beautiful Sisters of Pakistani Actresses,Beautiful Sisters of Pakistani Actress,Best Pakistani Actresses images,Best Pakistani Actress images,List of Pakistani actresses,List of Pakistani actress,best pakistani dramas, pakistani dramas,pakistani dramas online,top pakistani dramas,dramas online,pakistani drama,pakistani dramas 2019,top pakistani dramas 2017,top pakistani dramas 2018,top 10 pakistani dramas 2018.
Hits: 0