SEOquake is a free plugin for browsers that provides you with key SEO metrics for a specific page, along with other useful tools such as SEO Audit and many others.
SEOquake is a free plugin for your browser that provides you with organic research data at the click of a button. Currently compatible with Mozilla Firefox, Google Chrome and Opera, SEOquake can provide parameters for listings within search engine results. Along with organic research data, SEOquake provides other useful tools including an SEO Audit, Keyword Density report, Internal/External Link analysis and even social metrics.
Many people try to find information out on their competitors by analyzing SERPs and determining who is ranking where. You search a particular keyword and analyze the results that show up. You then receive these results and have to manually retrieve the information for each landing page that shows up. But what if you could receive all of the analytical data needed for each landing page or domain straight from the SERP itself? What if you could remove countless hours spent on manually retrieving this data all at the click of a button?
Here is where SEOquake comes in! This free plugin allows you to see metrics for domains and landing pages including Google Index, Alexa Rank, SEMrush Ranking data, Facebook likes and much more. These metrics are all available to be shown directly from the SERPs so that you understand where each domain and landing page being displayed stand amongst each other.
SEOquake gives you quick and easy access to analytical data on any webpage. By using our SEObar, you can navigate to any landing page and receive analytical data specific to that landing page at the click of a button. Our SERP Overlay will populate your SERP pages (Search Engine Result Pages) with data specific to each result, taking out the guesswork and manual effort by navigating to each page. Our SEO Audit will "audit" any given landing page and tell you any technical issues we find. Our Keyword Density report will break down landing pages by keyword and may help reveal your competitor's target keywords by landing page. Our Internal and External Link reports will assist with finding what links exist on a given landing page, which can reveal navigation tactics as well as possible partnerships used by your competitors.
Free SEO Audit Tool
SEOquake allows you to:
– Review all major metrics in a heartbeat
– Get a thorough analysis of SERPs and export the results in CSV format
– Set parameters for a search query
– Run a complete SEO audit of a webpage, including a check for mobile compatibility
– Use a wide range of default parameters or create a custom set
– Get a full report for internal/external links
– Determine a keyword's density and configure a stop-word list
– Compare URLs/domains
– Check your social statistics for Facebook and Google+
SEOquake consists of several tools you can use depending on which specific SEO endeavors you're pursuing.
The SEO bar is an additional toolbar located at the top of the browser window, and it presents core metrics – a number of which can be customized.
The SERP overlay is a bar that appears below each SERP result. Once enabled, it gives you detailed metrics associated with each listing along with another sidebar section that allows you to sort and export your results.
Also, you can get detailed reports for a specific page you are analyzing.
SEO Audit tool
SEOquake has other useful tools, including, the SEO Audit tool, the Keyword Density report, Internal/External Link analysis and even social metrics.
SEOquake is really easy to install and work with.
The SEOquake plugin is compatible with several browser extensions and is constantly updated.
So far, SEOquake has been downloaded more than three million times and counting.
If you have any questions, comments or suggestions, contact at mail@seoquaketeam.com.
Full list of SEO parameters:
Google Index, Google Links, Google Cache date, Yahoo Index, SEMrush links, SEMrush backlinks by domain, SEMrush backlinks by hostname, Bing Index, Alexa Rank, Webarchive age, Facebook likes, Google +, SEMrush Rank, SEMrush SE Traffic, SEMrush SE Traffic price, SEMrush Video advertising, Baidu index, Baidu link, Compete Rank.
A Powerful SEO Toolbox for your Browser
Check any webpage for a huge selection of SEO parameters on the fly, with
the free SEOquake browser extension.
Conduct on-page SEO audit in a flash
Examine internal and external links
Compare domains and URLs in real time
Export all data into a file
SEOBAR
There may come a time where you are on a particular landing page and you want to find out more. You notice a great landing page your competitors are putting out there but you want to find out a little bit more. Here is where the SEObar comes into play. Once enabled by clicking the Settings gear and choosing the "Show seobar" option, you can analyze all of the parameters displayed by SEOquake, specific to the given landing page. By having this enabled, you are able to instantly receive these parameters for any landing page you navigate to. This gives you a fast and easy way to analyze landing pages you are researching.
PAGE SEO AUDIT
Have you ever wanted to find out exactly what is wrong with your website's content? Maybe to the naked eye your webpage looks okay but what about what is going on in the background? SEOquake can help you with finding this information as well! Start by going to any given landing page. Once you have found the page you would like to analyze, click the SEOquake icon and choose the "Diagnosis" tab within the popup. This will then open up a new tab with a "diagnosis" of the page you were on.

Titled "Page SEO Audit", the Diagnosis report will audit the page you have navigated to. The diagnosis will be broken into three sections:
Page Analysis

This section will analyze the encoding of your web page. This section will touch on multiple areas including if you have enough characters within your URL, your title tags, meta descriptions and meta keywords are properly formatted, along with the presence of HTML heading and ALT attributes. You can find out more information on any of these checks by clicking the "Tips" arrow to reveal a dropdown explaining the given check.

Mobile Compliance

This section will examine how compliant the given landing page is with mobile devices. The first check listed will be for an AMP (Accelerated Mobile Page). AMP pages are an easy way to make your pages load instantly on mobile devices. The other check listed here is for the Meta Viewpoint. These can help with ranking for mobile pages. You can expect this section to be updated with more check as we roll out new updates.

Site Compliance

This section will look at the given website as a whole, instead of just a specific webpage. Just like the Page Analysis section, the Site Compliance will look for certain checks within the website such as the presence of XML Sitemaps, Robots.txt file, language declarations, doctype specification, as well as the implementation of language encoding, microformats and even favicon images. By clicking the Tips button, you will also reveal a dropdown menu describing the given check.
KEYWORDS DENSITY
Page Diagnosis report can also work in conjunction with the Keyword Density report. Located under the Density tab, this report will display all the keywords mentioned on the given landing page. Sorted by Repeats in descending order, the most mentioned keywords are listed first within this chart. The "Found In" column will display where the keyword is found on the landing page. To see what any symbol means, simply hover over the letter to reveal where the keyword is found. The first chart listed here will display all keywords, however, if you want to break these keywords down further, as you scroll down this page you will see separate charts for 1-word keywords, 2-word keywords, 3-word keywords, 4-word keywords along with original text.
The Density column will list how much of the total words does the individual keyword represent. The Prominence column will list the importance of the individual keyword on the given landing page. You will also notice listed to the right will be the "Page Info" box which will display the Title, Meta Keywords and Meta Description for the given landing page. Below this box gives you the option to filter the keywords listed within this report.
INTERNAL & EXTERNAL LINKS
This report will list all of the internal links present on the given landing page. This will list each link, the anchor text associated with the link as well as parameters for these links. You may see a refresh icon listed under these columns. You can simply click this button to receive the metrics under each parameter. You can also click the "request all parameters" button displayed in the top left of this report. If any of these links are repeated within this page, you will notice a gray circle with a number displaying how many times the link is repeated. Next to this circle will be a place for an Anchor if the link has anchor text associated with it. You can also add/hide these parameters with the button listed in the top left along with the option to Save as CSV. The external links report, listed under the External tab, will display any external links that exist on the page. This interface is structured the same way as the internal links report. You can apply the same navigation methods within this report.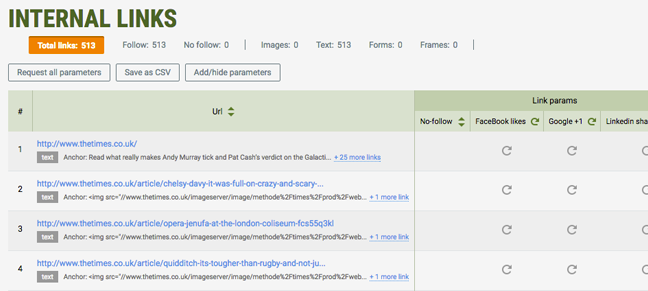 Hits: 0