Pakistan Wiki
Home

Earth

Continents

Asia

Pakistan











Mountains and river in Baltistan in the Northern Areas of Pakistan. Baltistan borders Gilgit in west, Xinjiang (China) in north, Ladakh in southeast and the Kashmir Valley in southwest.
Image: Haseeb97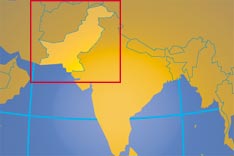 Location map of Pakistan A virtual guide to the Islamic Republic of Pakistan, a country in South Asia with a coastline on the Arabian Sea in south. Pakistan is bordered by Afghanistan, China, India, and Iran.
Within Pakistan's landscape there is the flat fertile Indus plain in east, nurtured by the Indus, the country's longest river and a key water resource. Pakistan's north is mountainous. The nation's highest mountains are in the Himalayas in north east. Pakistan's largest and least populated province is Balochistan situated on the Balochistan Plateau in the south and west.
The country occupies an area of 796,095 km², compared it is slightly larger than Turkey (783,562 km²) or slightly less than twice the size of the U.S. state of California.
Pakistan has a population of 211 million people (data from Statistics Division, 2020).
Capital is Islamabad. Main port, largest city and business capital of Pakistan is Karachi, second largest city is Lahore. Other major Pakistani cities: Faisalabad, Rawalpindi, Multan, Gujranwala, Hyderabad, Peshawar, and Quetta.
Spoken languages are Urdu (a form of Hindustani), English (both official), Punjabi, Sindhi, Dari, Balochi, and Pashto.
Islamic Republic of Pakistan – (Urdu: اسلامی جمہوریہ پاکستان)
Country Profile of Pakistan
Background:
The separation in 1947 of British India into the Muslim state of Pakistan (with two sections West and East) and largely Hindu India was never satisfactorily resolved.
A third war between these countries in 1971 resulted in East Pakistan seceding and becoming the separate nation of Bangladesh. A dispute over the state of Kashmir is ongoing. In response to Indian nuclear weapons testing, Pakistan conducted its own tests in 1998.
(Source: CIA – The World Factbook)
Official Name:
Islami Jamhooriya-e-Pakistan
short form: Pakistan
int'l long form: Islamic Republic of Pakistan
ISO Country Code: pk, pak
Time:
Local Time = UTC +5h
Actual Time: Tue-Apr-7  02:38
Country Calling Code: +92
Capital City: Islamabad (pop. 1 million) and adjacent Rawalpindi (1 400 000) comprise the national capital area with a combined population of 3.7 million.
Other Cities:
Karachi (9 million), Lahore (5 million), Faisalabad (2 million) and Hyderabad (1 million)
Government:
Type: Parliamentary democracy.
Independence: 14 August 1947.
Geography of Pakistan:
Location: Southern Asia, bordering the Arabian Sea between India on the east and Iran and Afghanistan on the west and China in the north.
Area: 796,000 km² (311,000 sq. mi.)
Terrain: Flat Indus plain in east; mountains in north and northwest; Balochistan plateau in west.
Climate: Mostly hot, dry desert; temperate in northwest; arctic in north.
People:
Nationality: Noun and adjective–Pakistan(i).
Population: 211 million (2020)
Ethnic groups: Punjabi, Sindhi, Pathan (Pushtun), Baloch, Muhajir (i.e., Urdu-speaking immigrants from India and their descendants), Saraiki, Hazara.
Religions: Muslim 97%; small minorities of Christians, Hindus, and others.
Languages: Urdu (national and official), English, Punjabi, Sindhi, Pushtu, Balochi, Hindko, Brahui, Saraiki (Punjabi variant).
Literacy: 45.7%; male 59.8%; female 30.6%.
Natural resources: Extensive natural gas reserves, limited petroleum, poor quality coal, iron ore, copper, salt, limestone.
Agriculture products:
Cotton, wheat, rice, sugarcane, fruits, vegetables; milk, beef, mutton, eggs.
Industries: Textiles and apparel, food processing, pharmaceuticals, construction materials, paper products, fertilizer.
Exports – commodities: textiles (garments, bed linen, cotton cloth, yarn), rice, leather goods, sporting goods, chemicals, manufactures, carpets and rugs
Exports – partners: USA 13.1%, UAE 9.1%, Afghanistan 9.1%, China 8.8%, UK 5.4%, Germany 4.9% (2015)
Imports – commodities: petroleum, petroleum products, machinery, plastics, transportation equipment, edible oils, paper and paperboard, iron and steel, tea
Imports – partners: China 28.1%, Saudi Arabia 10.9%, UAE 10.8%, Kuwait 5.6% (2015)
Currency: Pakistani Rupee (PKR)

Pakistan in Figures
Pakistan key statistical data.
Political System in Pakistan
Pakistan is an Islamic and federal parliamentary republic with Islam as its state religion. Chief of state is the president, head of government is the prime minister. The cabinet is appointed by the president upon the advice of the prime minister. Pakistan's federal and supreme legislative branch is a bicameral parliament (Majlis ê Shura), it consists of a Senate and the National Assembly. The country's legal system is a common law system with Islamic law influence.
Official Sites of Pakistan
The Government of Pakistan
The Official Government Site.
President of Pakistan
Official Website of the presidency of the Islamic Republic.
Ministry of Information and Broadcasting
The information gateway to Pakistan.
Ministry of Foreign Affairs, Pakistan
Official site of the ministry.
Diplomatic Missions of Pakistan
Permanent Mission of Pakistan to the UN
Pakistan's representation to the United Nations.
Embassy of the Islamic Republic of Pakistan in the U.S.
Official site of the Embassy in Washington D.C.
Pakistani Embassies and Missions Abroad
Address list of Pakistani Embassies and Missions Abroad.
Foreign Embassies in Islamabad
Address list of Foreign Embassies in Islamabad.
Foreign Missions in Pakistan
List of Foreign Missions in Pakistan.
Regional Governments
Government of the Punjab
Official site of the Government of the Punjab.
Government of Sindh
Official site of the Government of Sindh.
Statistics
Population Libraries Network of Pakistan (POPLIBNET)
Pakistan's population in facts and figures.
Statistics Division
National Statistical Office of Pakistan.

Pakistan in Figures
Pakistan key statistical data.
Pakistan Meteorological Department
Climate in Pakistan.

Map of Pakistan
Political Map of Pakistan.


Administrative Map of Pakistan
Map showing Pakistan's administrative divisions.


Map of Kashmir Region
Political Map of Pakistan.

Google Earth Pakistan
Searchable map/satellite view of Pakistan.


Google Earth Islamabad
Searchable map/satellite view of Pakistan's capital city.


Google Earth Abbottabad
Searchable map/satellite view of Abbottabad, hiding place of Osama bin Laden.


Google Earth Karachi
Searchable map/satellite view of Karachi, largest city and business capital of Pakistan.


Google Earth Lahore
Searchable map/satellite view of Lahore, second largest city of Pakistan.
Map of Asia
Reference map of Asia.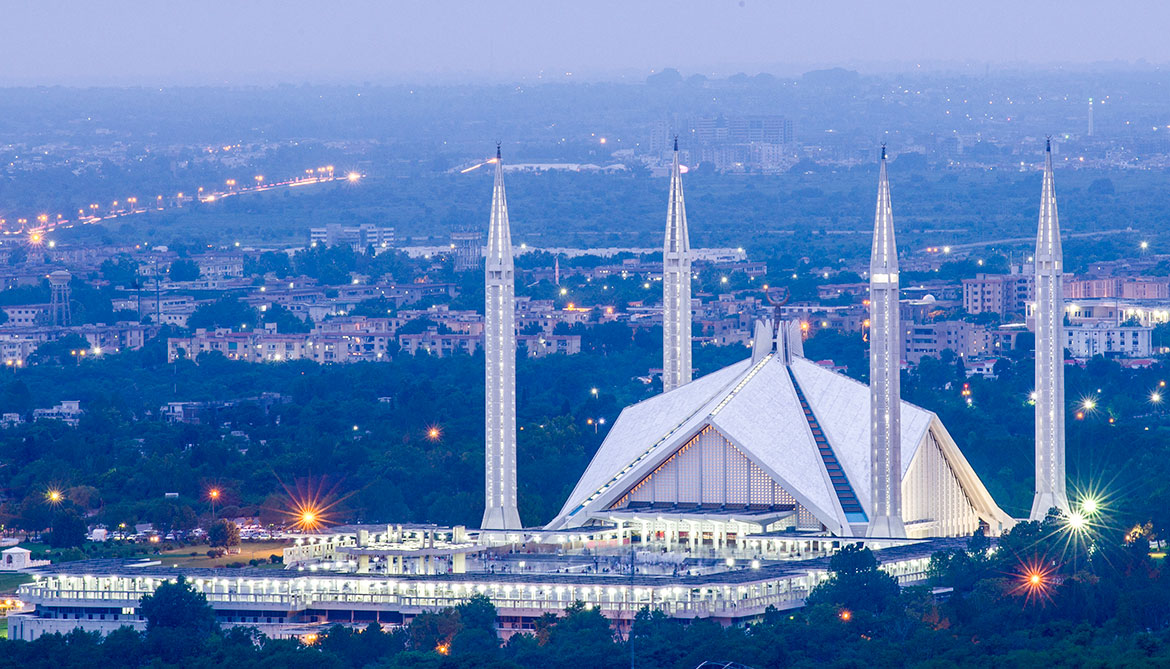 Shah Faisal Masjid (mosque) seen from Damn e Koh in Islamabad. It is Pakistan's national mosque.
Image: Abdul Baqi
News of Pakistan
Associated Press of Pakistan – APP
Pakistan News Agency, Islamabad.
Dawn
Pakistan news.
The Friday Times
Pakistan's independent weekly paper (Subscribers Only).
Daily Times
English-language, publishes in Lahore and Karachi.
The Frontier Post
English daily published from Peshawar and Quetta.
The Nation
National and international news.
The News International
The News International Pakistan.
The Pakistan Link
First Pakistan newspaper on the internet.
Pakistan News in Urdu
Daily Ausaf
Islamabad-based
Jang
Pakistan News (in Urdu)
Jasarat
Pakistan News (in Urdu)
International News Sources
BBC News Country Profile: Pakistan
With links to Pakistan related news and background information.
Karachi.com
Karachi and Pakistan News by World News Network
Reuters AlertNet – Pakistan violence
Reuters news.
Human Rights
Amnesty International: Pakistan
Amnesty International Reports.
Human Rights Watch: Pakistan
Background Briefings.
Press freedom
Reporters sans frontières – Pakistan
Annual report about Press freedom in the country.
Bookmark/share this page
Arts & Culture of Pakistan
Pakistan Museum of Natural History – PNMH
The museum of natural history in Islamabad offers botanical sciences, earth sciences, zoological sciences and public services.
PakPositive
Simple Pakistani news and stories without religious, political or military tones – presented unmodified and unedited at their sources.
PakVibes
Pakistan youth culture: music, ghazals, films, fashion and more.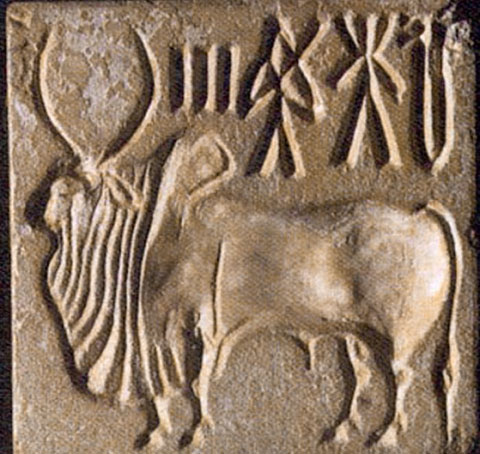 Seal found in Harappa, an archaeological site in Punjab. 

Pakistan Business & Economy
State Bank of Pakistan
Pakistan's Central Bank.
Lahore Stock Exchange
Official website of the Stock Exchange.
Karachi Stock Exchange (Guarantee) Ltd.
Founded 1947, 1949 converted and registered as a company limited by guarantee.
Trade Development Authority Of Pakistan – TDAP
TDAP is the successor organization to the Export Promotion Bureau (EPB) of the Government of Pakistan.
Transportation in Pakistan
Airlines
Pakistan International Airlines
The flag carrier airline of Pakistan, based in Karachi.
Airblue
Private airline based in Karachi.
Shaheen Air International
Another Pakistani private airline based in Karachi, seves cities in Pakistan and countries in the Persian Gulf.
International Airports Pakistan
Benazir Bhutto International
Islamabad, Rawalpindi, (IATA: ISB)
Jinnah International Airport
Pakistan's largest international and domestic airport Karachi, (IATA: KHI)
Allama Iqbal International
Pakistan's second largest civil airport, Lahore (IATA: LHE)
Other international airports in Pakistan.
Gwadar (IATA: GWD)
Peshawar (IATA: PEW)
Quetta (IATA: UET)
Railroad Pakistan
Pakistan Railway
Pakistan Railway maintains 7,400 miles (11,900 km) of track across Pakistan.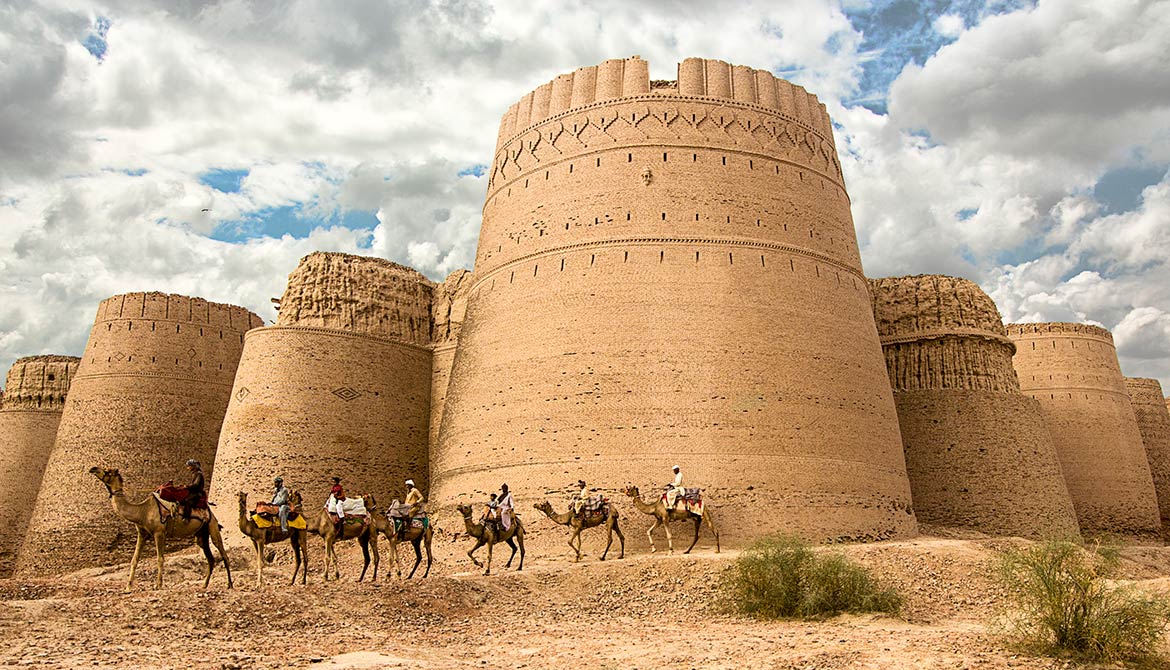 Derawar Fort, a large square fortress in Bahawalpur District, Punjab province. The fort was built by Rai Jajja Bhatti in the 9th century AD.
Image: Tahsin Shah
Travel and Tour Consumer Information
Destination Pakistan – Travel and Tour Guides
Discover Pakistan: Pakistan's main attractions include cultural and archaeological tourism as found in Taxila, Moenjodaro, Harrappa, and early Muslim and Mughal heritage at Multan, Lahore, Thatta, Peshawar and Swat.
Adventure tourism in the Northern Areas: Hunza valley, Mt. Rakaposhi, Nanga Parbat, Khyber Pass, Karakoram, K-2.
Find accommodation, hotels, attractions, festivals, events, tourist boards, adventure, skiing, hiking, climbing, cruising, diving, tours and much more.
Pakistan Tourism
Pakistan Tourism Development.
Pakistan Travel Web
Discover Pakistan.
Pakwatan.com
US based Pakistan portal – Its All About Pakistan.
Lonely Planet Pakistan
The backpackers guide 2 Pakistan.
Regions
Tourist Attractions – Government of Balochistan
About the largest province of Pakistan.
City Guides of Pakistan
Islamabad
A city guide to Islamabad.
Karachi
The city of Karachi.
Lahore
The capital of Punjab and the second largest city in the country.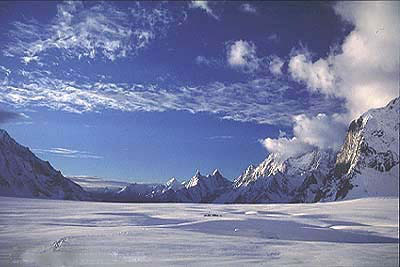 Iskardoo, a northern area of Pakistan.
Faisal Mosque Islamabad
Education in Pakistan
Federal Board of Intermediate & Secondary Education – FBISE
FBISE Islamabad, Pakistan.
Board of Intermediate & Secondary Education Board Dera Ghazi Khan
B.I.S.E D . G . Khan
Board Of Intermediate Education Karachi
Board Of Intermediate & Secondary Education Lahore
BISE Lahore
Board of Intermediate & Secondary Education, Peshawar
Ghulam Ishaq Khan Institute Institute – GIK
Institute of Engineeering Sciences and Technology.
Hamdard University
Official site of Hamdard University, Karachi.
Lahore University of Management Sciences
The Lahore University of Management Sciences (LUMS) is a national university.
National University of Science and Technology
Official site of NUST, Islamabad.
Quaid-I-Azam University
Pakistan's most prestigious university.
Shaheed Zulfikar Ali Bhutto Institute
Institute of Science & Technology.
University of Balochistan
Official website of the university.
University of Karachi
Pakistan's biggest university established in 1951.
Language
Urdu123.com
English-Urdu Dictionary and Translations.
Environment & Nature in Pakistan
Pakistan Water Gateway
Information related to water resources and issues in Pakistan.
Wildlife of Pakistan
Comprehensive website about Pkistan's nature and wildlife.
History of Pakistan
Quaid-i-Azam Muhammad Ali Jinnah
Article about the Father of the Nation, the founder of Pakistan.
Quick-History of Pakistan
Comprehensive collection of information on Pakistan's History.
National Fund for Cultural Heritage
Places of Historic Interest and Natural Beauty in Pakistan.
Pakistan History
Pakistan's Historical Background.
Story of Pakistan
Comprehensive Reference on the Political History of Pakistan.
History of Pakistan
Wikipedia article about Pakistan's history.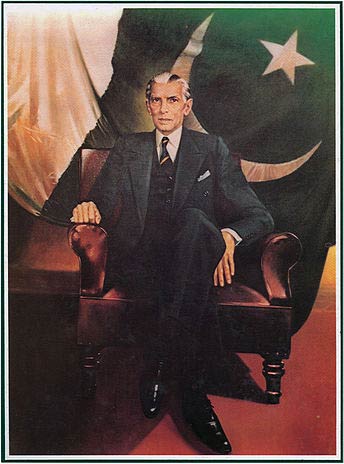 Portrait of Muhammad Ali Jinnah, the founder of Pakistan
(25 December 1876 – 11 September 1948)
Hits: 0