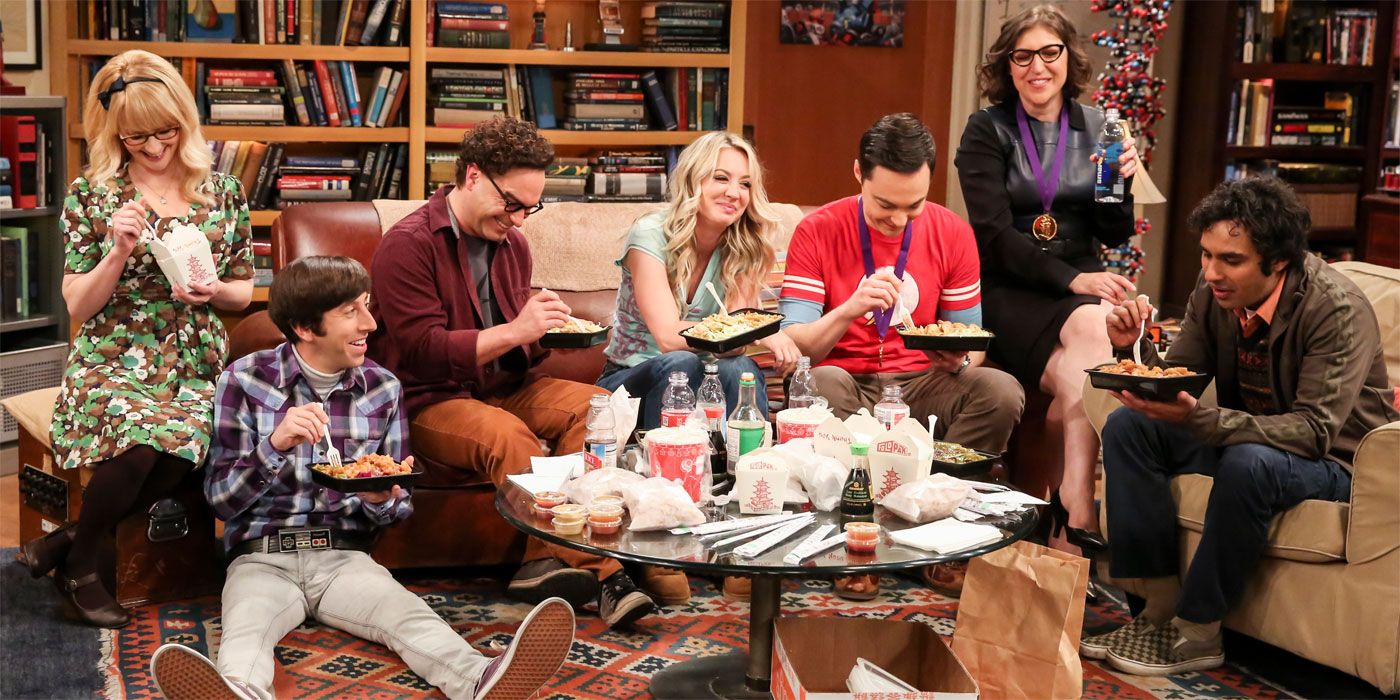 For twelve seasons airing from 2007 to 2019, CBS's The Big Bang Theory was one of television's most popular and beloved sitcoms. The series originally started off following the lives and hilarious misadventures of a group of four nerdy friends: Dr. Sheldon Cooper, Dr. Leonard Hofstadter, Dr. Rajesh Koothrappali, and Howard Wolowitz. When the series began, its central conceit seemed to be the hilarity that ensued when nerds Sheldon and Leonard found themselves suddenly welcoming a young and beautiful neighbor, Penny, into their apartment complex.
RELATED: How Big Bang Theory Reinvented Itself As An Ensemble Show
Over time, however, The Big Bang Theory thankfully evolved, and so did its characters. Each of the main nerd guys became more richly defined and complex, and soon Penny was joined by brilliant female scientists Dr. Bernadette Rostenkowski and Dr. Amy Farrah Fowler. The show moved on to then chronicle the love stories that blossomed among the friendship group, their career trajectories, and much more. But all the while, it remained the same series viewers absolutely adored. With the show officially over, we take a look back at all twelve seasons and see how the quality compares.
12 SEASON 8
It's inevitable that even the most successful of series will hit a dry spell eventually. It's also pretty much guaranteed that most series will go on for far longer than they should, so long as they remain profitable. With the eighth season of The Big Bang Theory, it really seemed like the series had finally reached its creative low-point. Even years later, and after more successful seasons, this season is still hard to get through.
The eighth season made far too many mistakes, including the unrealistic switch of Penny's career to pharmaceutical sales; Howard's public humiliation at the L.A. Angels game; and the further exploration of Raj and Emily's uncomfortable relationship. The season did, however, introduce some unconventionally serious material for the series, as a result of Carol Ann Susi, the voice actress for Mrs. Wolowitz, tragically passing away and the show's incorporation of her loss.
11 SEASON 9
When a season really gets off to a bad start from the very first episode, it's pretty hard to stick the landing in any meaningful way after that. The first episode of The Big Bang Theory's ninth season finds long time will-they-won't-they couple Leonard and Penny finally getting married. But the way in which the series handled their union leaves a bad taste in many viewers' mouths, even after all these years, since the wedding episode was paired with the out-of-nowhere reveal that Leonard once cheated on Penny.
The season also finds the series' other central romance, Sheldon and Amy, coming to an unexpected (albeit temporary) end. Since it's clear that the show never intends for them to remain apart forever, it feels as though the show is treading water for the entire time they're apart. Perhaps the clearest highlight from the season is the highly-anticipated arrival of Sheldon's Meemaw, played to perfection by the inimitable June Squibb.
10 SEASON 4
Sometimes, a show introduces a character that you can just tell from the get-go is a mistake – a character so terrible, so groan-inducing, so utterly wrong for the series, that they're almost never mentioned again after they leave. For The Big Bang Theory, that character is Raj's overly serious and critical sister, Priya. Much of the fourth season of The Big Bang Theory (when not following the development of the odd friendship and quasi-romance between Sheldon and new character Amy) is spent instead following the progression of the romance between Priya and Leonard.
It's natural to want Leonard to move on after he and Penny fail to make it work after as many tries as they had. But it's almost laughable to imagine that the series ever expected anyone to root for this relationship they wasted so much time on, when Priya never even made any attempts to connect with the core group of characters. Guest appearances throughout the season by Stephen Hawking, LeVar Burton, and George Takei among others stand out as some of the few highlights, along with Sheldon's impulsive decision to get dozens of cats.
9 SEASON 10
The Big Bang Theory's tenth season presents a sort of quality conundrum: there's nothing inherently bad about the season. There's just nothing particularly amazing about it either. If it had to be described in one word, "meh" sounds about right.
Howard and Raj continue their confusing guidance system project, Stuart continues overstaying his welcome at the Wolowitz home, yet more adventures at Comic Con, and Sheldon and Amy move in together. The most significant occurrence (other than that last one) is the birth of Halley Wolowitz, who comes to serve as the series' new always-heard-but-never-seen character, and Sheldon's impulsive cliffhanger decision to propose to Amy.
8 SEASON 5
By the fifth season of the series, The Big Bang Theory had really gotten into a groove. It's not to say that the series was coasting in any way,  but it was easy enough to expect reliably entertaining humor from the show at this point. Of course, the season also picked up where the previous year left things off, in a truly surprising way: Penny and Raj spent the night together.
RELATED: Young Sheldon's Unexpected, Touching Tribute To The Big Bang Theory
Hilarity naturally ensues, but doesn't last for very long. The season features appearances (in different forms) from more science fiction legends, like Brent Spiner and Leonard Nimoy, and chronicles the progression of Howard and Bernadette's relationship, Howard's impending journey to space, the growing friendship between the three girls, and Sheldon's continuing adventures and rivalry with Stephen Hawking.
7 SEASON 1
First seasons are tough for most series, but for sitcoms even more so than others. Characters often start off roughly defined, sketches and caricatures more than fully-formed people. A tone has to be found and a standard set, and it can take a while to get there. Thankfully, The Big Bang Theory stands as one of the few sitcoms to have a pretty strong track record right out of the starting gate.
Standouts of the first season include the pilot episode, which serves as a strong introduction to all of the core five characters; the first visit of Laurie Metcalf as Sheldon's incredibly religious and anti-scientific mother, Mary Cooper; the series' first Halloween episode; the introduction of Sheldon's beloved "Soft Kitty" song; and a discussion of romances through the lens of Schrödinger's cat.
6 SEASON 7
Past the halfway point of its run, it would have been easy for The Big Bang Theory to take a real nosedive in quality with its seventh season. Instead, the series did the exact opposite, continuing to produce episodes that were both utterly hilarious and heart-warming.
Highlights of Season Seven include the return of the much beloved friendship between Sheldon and Penny, Raj's scavenger hunt that leads to some intense competition among the gang, the appearance of everyone's favorite TV scientist Bill Nye, Howard's serenade of Bernadette for their anniversary, and the death of Professor Proton, who then becomes Sheldon's spiritual Force ghost mentor.
5 SEASON 11
The Big Bang Theory doesn't often try to cover serious material. Even when it has the occasional serious episode, the tensest scenes are usually undercut with an unexpected joke of some sort. But the series' eleventh season found two of its main characters finally confronting a long-existing problem in their relationship, and the series only became all the better as a result of it.
RELATED: The Big Bang Theory Headed To The Smithsonian
Howard Wolowitz and Raj Koothrappali have long been portrayed as perhaps the best friendship in the entire series. But at the same time, Howard has spent almost their entire friendship looking down on Raj or mocking him for who he was and what he liked. Raj finally stands up for himself, culminating in a truly tense and emotional arc. The resolution and growth for both characters makes the conflict entirely worth it. The season also features such highlights as Sheldon and Amy's wedding, Sheldon's experiments in geology, a new Professor Proton, and the arrival of Howard and Bernadette's son, Neil Michael.
4 SEASON 6
The series' sixth season introduces one of the most amusing and enduring storylines – Howard's adventures in space, and the relentless bullying he receives from his fellow astronauts. It also includes some (perhaps unintentional) foreshadowing for the series' future, such as Sheldon's wondering whether he may have made a discovery worthy of a Nobel Prize.
Season Six features some fun adventures in Dungeons and Dragons, as well as a trip to Bakersfield Comic Con that features the men of the series dressed in full Star Trek: The Original Series costumes. But the season's most meaningful contribution comes in the episode "The Proton Resurgence," which introduces Bob Newhart's instantly iconic Professor Proton to the series.
3 SEASON 12
It's virtually unheard of for a series' final season to be one of the best it ever produces. By the end of a long-running series, usually the gas is running out and writers and actors alike are just phoning it in until they reach the finish line. For The Big Bang Theory, that couldn't have been further from the truth.
The series' twelfth and final season introduced some of its most interesting storylines to date, actually adding elements of suspense into the otherwise stable series. Raj entered into an arranged marriage with someone he thought he was compatible with, only to realize he deserved a grand romance. Leonard and his mother seemed to be at their breaking point, only to come to a point of closure and closeness unlike anything before. And Sheldon and Amy's discovery of super asymmetry was up for consideration for a Nobel Prize, but they found themselves challenged by scientists who inadvertently discovered the same thing. Spoiler alert: they win in the series finale. Because of course they do.
2 SEASON 2
The Big Bang Theory's first season may have been pretty strong for a sitcom just getting started, but things really settled into place with the incredibly hilarious second season. Leonard and Penny's romantic relationship began to take on more of a prominent role, and Barry Kripke (Sheldon and Leonard's nemesis and fellow Caltech scientist) was introduced, signaling the start of the expansion of the series' world.
But perhaps the most significant development season two offered was the introduction of a friendly rivalry between Sheldon and Penny. No two characters in the series have less in common than these two do, but it makes for comedy gold each time they share a scene together, whether working on making Penny Blossoms in "The Work Song Nanocluster" or declaring war against each other in "The Panty Piñata Polarization."
1 SEASON 3
After avoiding the infamous sitcom sophomore slump, The Big Bang Theory in its third season doubles down on much of what made the second season such a success. Sheldon and Penny's friendship becomes a truly major fixture within the series, leading to hilarious experiments in which Sheldon tries to reward Penny for positive behaviors or attempts to educating her about physics. He also even does the unthinkable, singing "Soft Kitty" to her when he is taking care of her after an injury.
The third season also introduces three of the series' most significant characters: Howard's new girlfriend and eventual wife, Bernadette Rostenkowski; Sheldon's new friend, eventual girlfriend, and even more eventual wife, Amy Farrah Fowler; and Sheldon's true nemesis, none other than the infamous Wil Wheaton.
NEXT: The Big Bang Theory Finale: 7 Things That Brought Us Closure (And 3 That Didn't)
Next 10 Reasons Wonder Woman's Appearance In Teen Titans Go! Was Great
Related Topics
big bang theory,
the big bang theory,
big bang theory cast,
the big bang theory cast,
big bang theory season 12,
What is the big bang theory ?,
Where to watch big bang theory?,
Is big bang theory on netflix?,
Is the big bang theory on hulu?,
How did big bang theory end?,
big bang theory season 12,
big bang theory season 11,
the big bang theory season 12,
the big bang theory season 11,
the big bang theory season 12 episode 24,
How many seasons of big bang theory?,
How many seasons of big bang theory are there?,
How many seasons of the big bang theory?,
How many seasons big bang theory?,
How many seasons of the big bang theory are there?,
Hits: 0