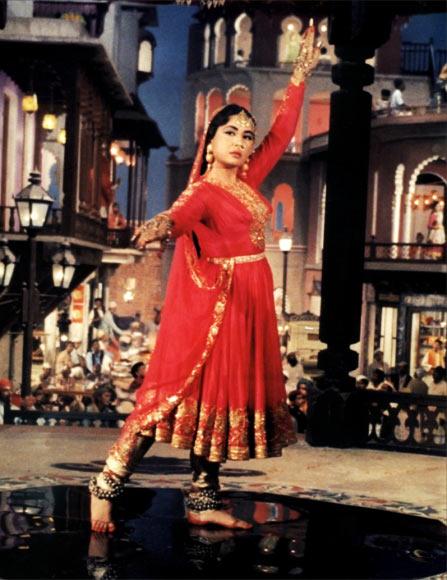 Next
Sukanya Vermain Mumbai
One hundred years of grace, beauty, fortitude, emotions and artistry, the Hindi film heroine is like no other.
She can dance a storm, break your heart with her downpour of grief, shake a script's foundation with her impulsive fury, play wicked games and fuel a scheme, turn on the charm, entice, exasperate, she can do anything.
No wonder when she gazes soulfully into the eyes of its beholder on the other side of the screen, they are compelled to orchestrate dreams of her unattainable allure.
In the past 10 decades, innumerable exceptional actresses have graced the silver screen. As part of our 100 years celebration of Hindi cinema, we asked you dear readers to pick your MOST favourite actress.
Expectedly, the final tally is both dynamic and debatable.
Here then is YOUR list of the 10 Best Hindi Film Actresses of all time.
10. Meena Kumari
From a bubbly child star to Bollywood's ultimate tragedy queen, Meena Kumari embraced melancholy like a middle name, which made her performances in films like Sahib Biwi Aur Ghulam and Paakezah the benchmark for pathos.
It's rather unfair that her sad imagery often overshadows her vivacity in lighthearted roles in films (teaming her with another actor known to convey reel-life gloom Dilip Kumar) like Azaad and Kohinoor.
Barely months away from turning 40, Meena Kumari passed away from cirrhosis of the liver but her legacy lives and breathes beautiful.
Image:Meena Kumari in Pakeezah
Tags: Meena Kumari , Bollywood , Sahib Biwi Aur Ghulam , Dilip Kumar , Meena KumariFrom
Next
Prev Next
Audience are a faithful lot.
They don't care if an actor is in circulation or not as long as she's left a lasting impression on their minds.
Jaya Bachchan, still addressed as Bhaduri by her lifelong fans, stood apart in a crowd of cosmetic beauties with her disarming persona and spunky innocence, a quality, which is perfectly captured in memorable characters of Guddi, Mili, Anamika and Zanjeer along with a unique sensitivity (in Abhimaan, Koshish) never relying on dialogues to make an impact.
An occasional assignment in films like Hazaar Chaurasi Ki Ma or Kabhi Khushi Kabhie Gham is a reminder of her artistic convictions.
Image:Jaya Bhaduri/Bachchan
Tags: Jaya Bachchan , Kabhi Khushi Kabhie Gham , Hazaar Chaurasi Ki Ma , Bhaduri , Mili
Prev Next
Prev Next
She may not have floored the camera instantly but Rekha's transformation from gawky to gorgeous is stuff miracles are made of.
A killer mix of breathtaking glamour and exquisite expressions, the depth in her performances as a rape survivor in Ghar, heartbroken courtesan in Umrao Jaan, chirpy rebel in Khoobsurat, neglected wife in Ijaazat or ruthless businesswoman in Khiladiyon Ka Khiladi is unforgettable.
A beauty that has only become pronounced with time, Rekha is content playing strong character roles today.
Image:Rekha
Tags: Rekha , Khiladiyon Ka Khiladi , Umrao Jaan , Ijaazat , Khoobsurat
Prev Next
Prev Next
Beauty as an adjective is attributed to many but few like Madhubala emanate it in overwhelming proportions.
Her divine face and melting smile created nationwide hysteria. But the allure of Madhubala is not limited to her irresistible magnetism.
It is her effortless ability to breathe life in the camera, which continues to be appreciated even four decades after her demise.
Be it as the fun-loving Madhu of Chalti Ka Naam Gaadi, morally scrupulous Anju in Amar or defiant courtesan in Mughal-E-Azam.
Image:Madhubala
Tags: Ka Naam Gaadi , Madhubala , Madhu , Mughal-E-Azam
Prev Next
Prev Next
Breaking free from the shackles of overstated melodrama, the refined sophistication of Waheeda Rehman made her an instant classic.
The elegance with which she has conducted her entire career only validates this faith.
One of the few actresses to have contributed to several of Hindi cinema's path breaking films like Pyaasa, Kagaz Ke Phool, Sahib Biwi Aur Ghulam, Khamoshi, CID, Teesri Kasam, Ram Aur Shyam, Guide and Reshma Aur Shera, Rehman's body of work is staggeringly sound.
Her graduation to motherly roles rendered the much-mocked genre a warmth and poise visible in films like Chandni, Lamhe and Rang De Basanti.
Image:Waheeda Rehman
Tags: Waheeda Rehman , Sahib Biwi Aur Ghulam , CID , Rang De Basanti , Ram Aur Shyam
Prev Next
Prev Next
It's greatly disturbing to notice how many of our superlative actresses died young.
Smita Patil is another one. (She was only 31.)
But the immensely gifted Patil's acclaim-filled career is studded with gems like Subah, Aakrosh, Mirch Masala, Mandi, Bhumika, Manthan and Arth.
Though it was her work in meaningful, issue-based subjects that got raved about, she proved to be equally adept in mainstream fare like Namak Halal, Shakti, Aakhir Kyon and Waaris.
Image:Smita Patil
Tags: Smita Patil , Aakhir Kyon , Mirch Masala , Namak Halal , Subah
Prev Next
Prev Next
Cinema may be all about 'entertainment, entertainment, entertainment' but Vidya Balan sitting at the number four spot proves that it's all about following your instincts.
Balan didn't find an early break in Bollywood but once she grabbed a meaty role in and as Parineeta, she dazzled everybody with her mettle in exhilarating roles.
In this supremely cutthroat industry where everyone follows formula to stay on scene, majority of her work is composed of award-winning roles in offbeat films like Paa, Ishqiya,The Dirty Picture and Kahaani.
Image:Vidya Balan
Tags: Vidya Balan , Dirty Picture , Paa , Kahaani , Ishqiya
Prev Next
Prev Next
Bollywood's first superstar to command an equal footing (if not more) as her leading man, Sridevi changed the rules.
Her sensational success ratio and malleable skin as an actress coupled with glamour-oozing fantasy combined to make hits in succession in films like Sadma, Mr India, Chandni, Chaalbaaz, Lamhe, Nagina and Khuda Gawah.
And just when one thought Sri has cosigned to a life of domestic bliss, she stepped out to receive thundering applause for English Vinglish.
Once a seasoned actor, always a seasoned actor.
Image:Sridevi
Tags: Sridevi , Khuda Gawah , Sri , Mr India , Nagina
Prev Next
Prev Next
A resume like hers is the dream of every actress.
Nutan's calibre sparkled in films predominantly based around her and shunned the notion of male-dominated industry.
Her vivid emotionality and restraint floored spectators through Seema, Sujata, Bandini, Saraswati Chandra while her adorable romantic flourished in Tere Ghar Ke Saamne, Anari, Paying Guest and Dilli Ka Thug.
A performer par excellence, Nutan was decorated with several Best Actress trophies and displayed her star power in central roles even in the latter stages of her career (Meri Jung, Karma).
Image:Nutan
Tags: Nutan , Dilli Ka Thug , Tere Ghar Ke Saamne , Saraswati Chandra , Meri Jung
Prev Next
Prev More
Numero uno, again?
Clearly, the response to Aaja Nachle doesn't change much.
No actress until Madhuri Dixit has had enjoyed such a heady hold on her audience. Many have emulated her since but found half the success.
Right from Mohini's Ek do teen phenomenon in Tezaab to the delicate adas of Chandramukhi in Devdas, Madhuri, of the million-dollar smile, of the radiant expressions, of the nimble, abandoned dance moves, is a complete package.
From embodying vulnerability in Parinda, strength in Mrityudand, romance in Hum Aapke Hain Kaun and M F Hussain's free-flowing inspiration in Gaja Gamini, her surreal charms are a yardstick for greatness.
Image:Madhuri Dixit
Tags: Madhuri Dixit , Aaja Nachle , Gaja Gamini , Devdas , Mrityudand
Prev More
indian actress,indian actresses,indian actress sex,indian american actresses,indian actresses in hollywood,
Hits: 0