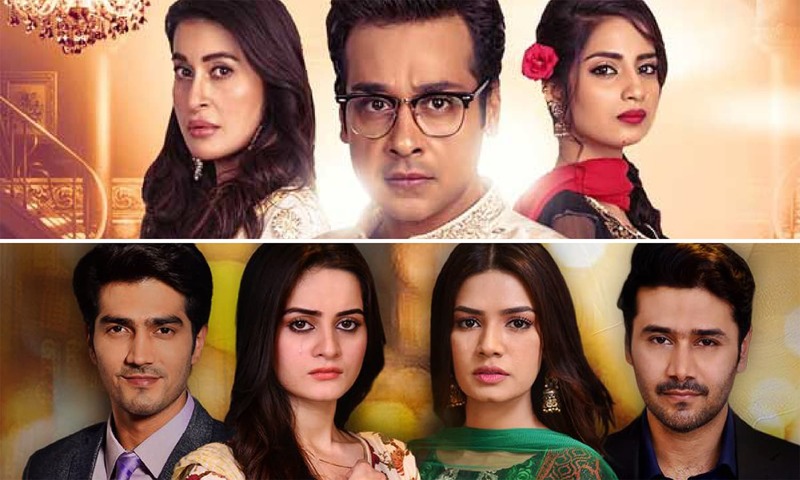 Pakistani dramas don't fail to impress when it comes to content and subject matter. We have dramas that deliver quality entertainment by keeping it simple, having its audiences hooked.
2017 is proving to be an amazing year for the drama industry so far. With hits like Waada and Choti Si Zindagi, there are dramas to entertain all sorts of people in the masses.
With that said, check out the top six most watched dramas on television for this year so far.
1) Waada
Just wow #recordbreaker @arydigital.tv

A post shared by Faysal Qureshi🇵🇰 (@faysalquraishi) on Apr 15, 2017 at 6:38am PDT
A cliched story line, but nonetheless an exciting drama on ARY Digital that has us hooked since the last epsiode. Over the weeks we developed a love-hate relationship with Jaana, Sumera and Shahab, loving their characters for being so meek, clever and annoying all at once.
2) Choti Si Zindagi
Hope you guys enjoyed the episode! Thank you everyone for all your support it really means the World to us #chotisizindagi #shahzadsheikh

A post shared by Shahzad Sheikh (@shahzadsheikh37) on Dec 21, 2016 at 2:40am PST
We absolutely love Choti Si Zindagi for its simplicity and purity. This one drama addressed lessons like falling in love, relying on whatever one has, being thankful to the Creator and appreciating the little things in life. The drama is building up to an unexpected crescendo at the moment, which is why we really enjoy watching this amazing entertainer every week. Shahzad Sheikh and Iqra Aziz also continue to amaze us in Choti Si Zindagi on HUM.
3) Rasm-e-duniya
Potential LOVE… #rasmeduniya Thu at 8:00 pm on #arydigital

A post shared by ARY Digital (@arydigital.tv) on Apr 5, 2017 at 2:59am PDT
With an amazing star cast, great direction and plot twists, Rasm-e-duniya has all the ingredients of being a hit, which is why there's no doubt it's become the nation's favorite. With Armeena Rana Khan playing the gorgeous damsel in distress alongside the psychotic Sami Khan and Bilal Abbas, we love how Rasm-e-duniya tells the tale of hatred, toxic relationships, anger and betrayal. Rasm-e-duniya airs every Thursday on ARY Digital.
4) Khali Haath
Watch tonight AT 08:00 PM Only on @harpalgeotv ! #HarpalGeo #GeoTv #drama #entertainment #khaaliHaath @aimankhan.official @aliabbasofficial

A post shared by Geo Tv – HarPal Geo (@harpalgeotv) on Apr 3, 2017 at 7:41am PDT
Brother in law falling for the sister in law, seems like an old plot, no? But this isn't what Khali Haath is all about. This drama revolves around betrayal, love, anger, deciet and so much more that exists between suffering relationships in our society. With an interesting storyline and excellent acting by Ali Abbas, Shahzad Sheikh and Aiman Khan, Khali Haath proves to be an interesting watch on GEO.
5) Khuda Aur Mohabbat
Kya Sarah jeet jai gee Hammad ki mohabbat ko ya hoge ek bar phir mohabbat ki har? #KhudaAurMohabbat #lastepisode

A post shared by Geo Tv – HarPal Geo (@harpalgeotv) on Mar 27, 2017 at 7:13am PDT
Love is your guide to God; no other drama in the history of dramas has portrayed love with so much potential. Imran Abbas, Sadia and Kubra Khan made Khuda Aur Mohabbat an all time favorite and a must watch. We loved how each and everything was executed to perfection.
6) Sang-e-Mar Mar
Aurang and family #bts #sangemarmar @humtvpakistanofficial #drama #pakistan #swat #sarena #shooting #cast #actor

A post shared by Mikaal Zulfiqar (@mikaalzulfiqar) on Dec 2, 2016 at 1:52am PST
A strong story, beautifully scripted dialogues, amazing direction and a stellar cast, Sang-e-mar mar had everything it takes to make a hit and of course, be our top favorite. Also Mikaal Zulfiqar as Aurang and Kubra Khan as Shireen, have us glued to the screen. Hats off to the makers for having depicted the Pakhtun culture with such grace and for also tackling social issues like Vani and honor killings.
Read: HIP Gives You Top Dramas To Watch Out For In April
pakistani tv actresses,Sana Javed,Sajal Aly,Aiman Khan,Ayeza Khan,Aiman Khan,Sana Javed,Sajal Aly,Meera,Ayesha Omar,Mawra Hocane,pakistani actresses,pakistani actress,pakistani stage actress scandal sex .com,pakistani actresses,pakistani drama actresses,sara khan pakistani actress,pakistani stage actress,Highest Paid Pakistani Actresses,Beautiful Sisters of Pakistani Actresses,Beautiful Sisters of Pakistani Actress,Best Pakistani Actresses images,Best Pakistani Actress images,List of Pakistani actresses,List of Pakistani actress,best pakistani dramas, pakistani dramas,pakistani dramas online,top pakistani dramas,dramas online,pakistani drama,pakistani dramas 2019,top pakistani dramas 2017,top pakistani dramas 2018,top 10 pakistani dramas 2018.
Hits: 0